Developer Sir Stuart Lipton lays into 'shameful' housebuilders and says he plans to stir up competition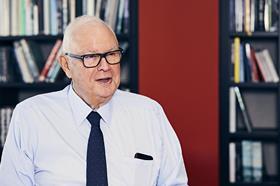 Veteran developer Sir Stuart Lipton has said he will launch a housing business next year in order to shake up an industry that he says is in "crisis" and builds "shocking" homes.
Lipton told Building that Lipton Rogers, the developer he set up with long-time partner Peter Rogers five years ago, will team up with mixed-use developer First Base, run by Lipton's son Elliot, to build homes on brownfield sites in and around London.
"If people had better homes, they wouldn't be going around knifing people"

Stuart Lipton
The new firm is looking at low-cost housing where it will build a mixture of one-, two- and three-bed flats on sites with space for a minimum of 250 homes.
The new venture will stick to flats only, built in blocks of between eight and 15 storeys.
The developer behind what will be the City of London's tallest tower when finished next year, 22 Bishopsgate, said he has been moved to act because the housebuilding industry is in crisis and has no meaningful competition.
"To me housing is in a crisis," he told Building. "Have you seen what housebuilders are building in the suburbs and provinces? They are reincarnating Victorian workhouse houses. Shameful.
"If people had better homes, if they had better conditions, their aspirations would be greater, their medical bills would be less, their educational standards would be higher and they wouldn't be going around knifing people."
He also waded into the Help to Buy row, siding with critics that the government initiative, designed to help people onto the housing ladder, has artificially increased the profits of housebuilders.
"The government buying private jets for housebuilders is rather naive," he said in a reference to the £75m bonus pocketed by Persimmon's outgoing boss Jeff Fairburn, who was forced to quit earlier this month because of the ongoing row over the amount of money he was handed.
"The [Help to Buy] money is going into housebuilders' profits; it's not reducing costs. The majority of the big names just want to make money. The houses they are putting up are shocking. They don't work – every week there's another horror story."
And he said housebuilders were more interested in protecting their double-digit margins than building more homes. "The system is bust. The government hasn't got the guts to do anything about it. The government wants to restrict supply, so values don't diminish, nimbys don't get offended, so that new hospitals, schools and infrastructure isn't required."
He said he hoped his entry into the market would stir up competition. "There is no competition [in housing]. Why is housing different to my phone or computer? With every product the cost has diminished and the product is far superior. The Romans did a better job – they had better materials, better designs and they lasted."
Come to Building Live next week to join the debate on "Will we ever solve the housing crisis?" and other topics. Book your tickets at: www.building-live.co.uk