Firm boosted by overseas work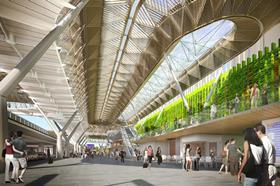 Architect Grimshaw has reported a jump in pre-tax profit to £1.9m despite a dip in revenue thanks to an increase in overseas work.
The firm reported a profit of £1.9m in the year to the end of March 2012, up from £1.4m in the year to 31 March 2011.
But it saw revenue dip slightly to £17.2m from £17.7m over the period.
The firm's affiliated office in New York were not included in the accounts but when added in they boosted turnover to £24.2m in 2011-12 with pre-tax profit of £2.6m.
The Companies House accounts revealed a decline in UK revenue to £8.6m from £11.1m over the period but this was largely offset by an increase in its revenue from outside Europe to £8.4m, up from £6.4m.
Despite the rise in profit, partner Michael Holmes said margins had been squeezed during the year because of investment in a new office in Doha and marketing.
He added: "These investments in the business have borne fruit with the booking of new work that will feed into profits during the next few years.
"Whilst there remains uncertainty about the growth of many markets in which the group operates the members believe that the group will maintain profitability and they remain optimistic that the quality of the group's architecture will continue to attract clients globally."
The firm also reported a decline in average staff numbers from 177 architects in 2011 to 150 architects in 2012. It also said there had been a rise in staff turnover from 2% in 2011 to 15% in 2012.