Architect reports 44% rise in revenue but profit falls to £1.3m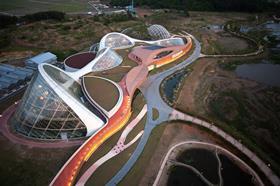 Architect Grimshaw has reported a 33% drop in pre-tax profit despite revenue soaring to £24.9m.
In accounts filed at Companies House, Grimshaw Architects LLP reported a pre-tax profit of £1.3m for the year to 31 March 2013, down from £1.9m the previous year.
It also reported revenue of £24.9m, up from £17.2m the previous year.
Writing in the accounts, partner Michael Holmes said: "While there remains uncertainty about the growth of some of the markets in which the group operates, the members believe that the group will maintain profitability and that the quality of their architecture will continue to attract clients globally.
"The group has increased its workload in new markets and is confident the variety of projects across both sectors and geographical areas will continue to lead to new opportunities during the coming years."
Grimshaw increased its revenue across all the geographic areas it works in. UK revenue rose 24% from £8.6m to £10.6 between 2011-12 and 2012-13.
Revenue from work in Europe rose 83% from £287,971 to £526,415 over the same period and revenue in the rest of the world rose 64% from £8.4m to £13.7m