The developer's housing pipeline has already increased from 2,100 to 9,300 since 2017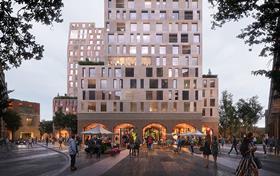 Property group Grosvenor has announced plans to triple the size of its strategic land business, targeting a portfolio of at least 30,000 homes within the next five years.
Led by the recently appointed executive director for Grosvenor Developments, Jorge Mendonça, the initiative will look at taking brownfield and greenfield land for plots of 2,000 through to 5,000-plus homes through the planning system as well as the building process.
The developer said these sites would largely be located in areas of economic growth where the need for new homes is most acute.
Grosvenor has already built its pipeline of homes from 2,100 last summer to 9,300, with partners including a range of local authorities, corporate and private land owners.
The expansion programme will build on Grosvenor's recent projects, which include the 1,200-home Trumpington Meadows scheme in Cambridgeshire and Barton Park in Oxfordshire which delivered 900 homes.
The firm has also has confirmed its final proposals for a £500m build-to-rent (BTR) scheme in Bermondsey (pictured).
The plans, which are subject to planning and go on display to the public today, will see up to 1,350 BTR homes built on a former biscuit factory, located next to a major railway line running between New Cross and London Bridge stations.