Safety and accountability issues could get more firms on board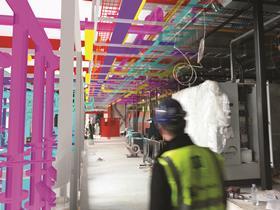 BIM experts have welcomed the Hackitt Report's call for digital records to store data around the construction and subsequent life-cycle of a building.
In her review of fire safety regulations published last week Dame Judith Hackitt said a digital record would form part of the 'Golden Thread' of accountability and help "ensure accurate building information is securely created, updated and accessible". It would also support oversight from the newly-created Joint Competent Authority.
A recent Building survey found 24% of respondents were 'aware' of BIM technology but had yet to use it.
Sarah Davidson, head of R&D at consultant Gleeds, said models, data and information can be used to better effect to support the safe operation and occupation of all types of buildings. Hackitt could help the take up of BIM Level 2 "because it is all predicated around reduction of risk and efficient and effective ways of working".
Davidson said the industry should also use plain language and embrace co-operative working.
BIM can operate as a better platform for data which was often stored inconsistently and in a variety of formats, said James Knight, head of residential at Arcadis, although it still needed to be managed properly. "But there will be good procedures that can be put in place to ensure this happens."
And Peter Caplehorn, deputy chief executive of the Construction Products Association, said the industry had a responsibility to deliver buildings that were "safe and performed in all conditions as expected. The BIM revolution has made progress and stands as an example of what can be done where there is the will," he added.