James Brokenshire tells MPs government is "minded to agree" with arguments to outlaw combustible cladding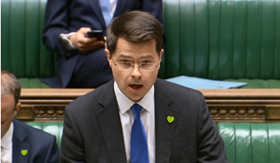 Housing secretary James Brokenshire has said the government is prepared to support a ban on combustible cladding in high-rise buildings.
Speaking in the House of Commons this afternoon, Brokenshire said government had been moved by arguments for a ban on cladding systems like the one that caused the Grenfell tragedy.
He added: "Having listened carefully to the arguments for banning combustible materials in cladding systems on high-rise residential buildings the government is minded to agree and will consult accordingly."
Brokenshire announced a government consultation on a ban for combustible cladding systems following the release of Dame Judith Hackitt's final report on building safety last Thursday.
The statement came in response to an urgent question from shadow housing minister John Healey asking Brokenshire to detail "the action taken and planned by government with respects to residents in tower blocks with dangerous cladding following the Grenfell Tower fire".
Brokenshire (pictured) also revealed that he has talks scheduled with private sector landlords who are in charge of buildings with dangerous cladding for later this week.
He said: "Remediation work has started on two thirds of buildings in the social housing sector and we've called on building owners in the private sector to follow the example set by the social sector and not pass on costs to leaseholders.
"I will be holding the first round table with the private sector this week, and I repeat what I said last week, if the industry does not step up I am not ruling anything out."
The housing secretary said he would be writing to social sector landlords setting out more details about how government would fund the removal and replacement of ACM cladding from social housing buildings.