Council may support use of wood, where feasible, as 'primary construction material'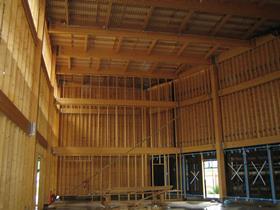 Hackney council looks set to become the first local authority in the country to adopt a planning policy promoting timber construction.
The east London borough - which already boasts the tallest timber tower in Europe - said it wanted to create a "presumption in favour" of using wood because of its advantages in terms of embodied energy.
It is responding to a new "wood first" policy promoted by national campaign group Wood For Good.
Graham Loveland, assistant director of planning at Hackney, said the council was actively considering "detailed management policies" to promote timber through the planning system and that this approach was in line with the government's National Planning Policy Framework (NPPF).
"The NPPF makes it clear that there needs to be a focus on sustainable development. The Code for Sustainable Homes does not look at embodied energy and we think that, looking holistically at development proposals, that is important," he said.
But he added: "We don't envisage saying 'you are only allowed to build timber buildings in Hackney' though."
Architect Andrew Waugh, whose firm Waugh Thistleton designed Hackney's nine-storey Stadthaus residential tower made out of timber, said that a tonne of concrete used around a tonne of carbon dioxide in its production, compared to the one tonne of CO2 stored in the same amount of timber. He also pointed out that the risk of fire was actually low when using solid timber.
"Solid timber panels are 100-150mm thick so the charring of these panels is very predictable," he said.
Wood for Good's campaign, which is backed by other organisations, including the Forest Stewardship Council, says planning guidance should demand that sustainably sourced wood is considered, where feasible, as the "primary construction material" in new-build and refurbishment projects.
David Hopkins, head of external affairs at Wood for Good, said: "Using timber will increase the speed of construction and its exceptional thermal insulation properties enable it to create homes and buildings that consume less energy."