Backer Joanna Lumley says: 'He longed to know more'
Actress Joanna Lumley has said she has shown the plans for Thomas Heatherwick's Garden Bridge in London to Prince Charles to get his approval.
The high-profile backer of the scheme said she had sought the heir to the throne's views "given his interest in architecture and gardening".
She told the Evening Standard: "It seemed the tiniest of courtesies to show him the plan, to show him it would not be a carbuncle and not a dismal garden but something of rare beauty.
"He is the keenest gardener and fanatical about details. We didn't have long enough, a bare three-quarters of an hour. We could have spoken for four days. He longed to know more."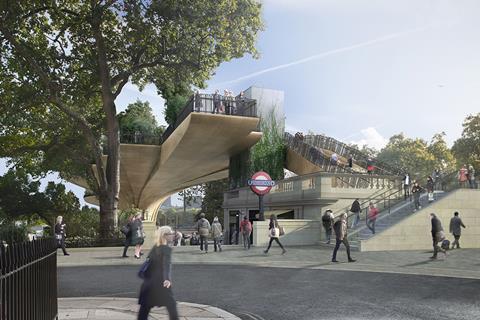 Prince Charles has previously been accused of using his influence to wield too much clout in architecture, most notably in 2009 when his intervention saw Richard Rogers' plans for the Chelsea Barracks redevelopment pulled after he asked the developer to drop it in favour of a more conventional design by his favourite architect Quinlan Terry.
That year BD's sister title Building also revealed the Prince of Wales was routinely given a say in major London schemes.
Lumley said she proposed the idea of a bridge at the site back in 1998 as a memorial to Charles's ex-wife, Diana, Princess of Wales.
She contacted Terence Conran who put her in touch with Heatherwick. She admitted the £150m price tag – which includes a public subsidy of around £60m – could be reduced if it was built further from central London. But Lumley said: "If you are going to be bold, be bold."
The bridge would stretch from the roof of Temple Tube station to a spot outside London TV Studios on the South Bank.
Earlier this month Heatherwick was forced to defend the design from an attack by peers in the House of Lords who called it an expensive vanity project.