Contractor confirmed as winner on five-year infrastructure framework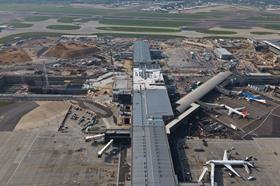 Heathrow Airport has confirmed Balfour Beatty as the winner of a five-year framework to provide infrastructure improvements at the airport's terminals one, two and four, worth up to £180m.
Building exclusively revealed Balfour Beatty was one of four contractors to win roles on four separate infrastructure frameworks at Heathrow in March. The other winners were Mace, Morgan Sindall and Ferrovial.
In a statement to investors Balfour Beatty said it would use building information modelling and 4D modelling on each project for Heathrow, which could be worth between £500,000 and £70m.
Steve Marshall, Balfour Beatty executive chairman, said: "I am delighted Balfour Beatty has been appointed to Heathrow's new style of framework contracts.
"We have worked in partnership with Heathrow for fifteen years and we will continue to bring our leading capabilities in areas such as Building Information Modelling and safety to our work at Terminals 1, 2 and 4; and play our part in helping Heathrow maintain its position as a leading travel hub."