Exclusive: Airport to tender shortly for four packages worth hundreds of millions each after procurement shake-up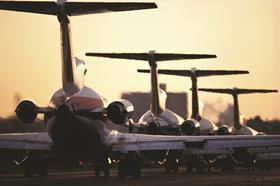 Heathrow airport is set to hand up to £1.5bn of work on its new capital investment programme to just four main contractors under a major shake-up of its procurement strategy, Building can reveal.
Heathrow Airport Ltd, the airport operator formerly known as BAA, said it plans to tender four contracts worth a total of £1bn-1.5bn for ongoing asset replacement work across its Heathrow property portfolio. The work comes under its new £2bn investment plan for the five-year period from April 2014.
The value of the work under the four contracts could rise even further if the airport regulator approves Heathrow's alternative investment plan, which would see it invest £3bn over the period.
Previously the airport has made extensive use of framework agreements for procuring construction work on a project-by-project basis.
Speaking exclusively to Building, Chris Elliott, development programme acquisition director of Heathrow Airport Ltd, said each of the four packages to be tendered will focus on a specific locale at the airport, such as a complete terminal.
Elliott said: "There's a significant switch to a focus on asset replacement and refurbishment of existing assets, rather than major civil engineering projects. That's why we need to change the way we work with our supply chain."
Elliott said he hoped that greater security for the main contractors would engender greater "professional collaboration, efficiency and innovation".
"We want people who are prepared to challenge our constraints and assumptions and come up with better solutions."
He added that letting work for distinct locales at the airport would make logistics easier to manage.
Michael O'Callaghan, director of aviation at Morgan Sindall, backed the approach, saying it would "provide better solutions for the airport".
Contractors are due to be invited to tender for the jobs, worth "several hundreds of millions" each, by the end of this summer, with appointments to be made in the first quarter of 2014.
The contracts will be for an initial period of three years with the ability to be extended for a further two years to cover the whole Q6 spending period from 2014 to 2019.
Elliott said that Heathrow would seek to invite both its current crop of main contractors, such as Laing O'Rourke, Balfour Beatty, Mace and Morgan Sindall, and some new firms, to pitch for the work.