Concept architect chosen for Heathrow expansion tells Building airport wants to be "most sustainable in the world"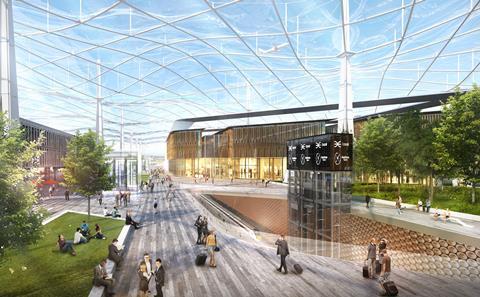 The concept architect behind Heathrow's proposed £16bn expansion has told Building the airport is targeting becoming "zero carbon".
Grimshaw Architects partner Jolyon Brewis, whose firm won a concept design deal from Heathrow this week for what the airport could look like with the potential to support a third runway, said Heathrow has an "enormous desire" to become "the most sustainable hub airport in the world".
He also said the airport is interested in potentially using construction materials similar to the ones used on the Eden Project in Cornwall.
Grimshaw saw off competition from Zaha Hadid, HOK and Benoy to provide concept designs for Heathrow's expansion plans.
Brewis said: "There's an enormous desire from all of these airports, especially Heathrow, to become the most sustainable hub airport in the world. It really fires up our enthusiasm for the airport."
He added: "It can become a zero carbon environment, that's what we're going to aim for. There's a great opportunity – as the buildings have large air spaces and a large roofscape – for an overall zero carbon environment."
The Grimshaw partner said Heathrow is exploring the use of lightweight materials in its plans for the new terminal, and used the Eden project as an example. The design team is also considering generating renewable energy from sources such as printed photovoltaics on foil materials.
However, with expansion plans including the new runway set to come in at £16bn, Brewis added that Heathrow is still keeping an eye on the cost. But he said he was encouraged by their commitment to sustainability.
He said: "Clients worry about cost and quite rightly, and this client is no different. But I've been hugely encouraged by the aspiration they have."
Even if Heathrow doesn't get the green light for a third runway – Gatwick is odds-on favourite with bookmakers – Brewis said his firm still expects to be employed by Heathrow.
He said the practice will "hopefully be involved in the order of the next 10 years" if Heathrow is chosen by the government for the new runway, but added that the architect expects to be involved as part of Heathrow's five-year spending programme, which will see "continued transformation of the airport in any event."