Ten contractors shortlisted for BAE Systems job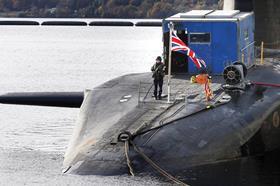 Ten contractors have been shortlisted for the £300m contract to construct the factory where the next generation of the UK's ballistic missile submarine fleet will be built.
BAE Systems has issued an invitation to tender to the ten shortlisted firms following an initial expression of interest for the redevelopment of its submarine facility at Barrow-in-Furness.
The shortlisted companies are BAM Construction, Balfour Beatty, Costain, GRAHAM Construction, Kier Construction, ISG, Interserve, Morgan Sindall, Shepherd Construction and Sir Robert McAlpine.
The project will involve the delivery of new build facilities and the refurbishment of existing infrastructure in preparation for the construction of a successor to the Royal Navy's Vanguard class submarines, which BAE is leading.
The project is scheduled to take eight years and will employ approximately 850 contractors at its peak.
Once the main construction partners have been appointed, BAE Systems will then jointly host an industry day for SMEs who are interested in providing additional support services.
The project will include: an extension to the Devonshire Dock Hall submarine construction facility; two new major buildings housing pressure hull units ready for shot blast and paint and the refurbishment of the site's main fabrication facility, together with its existing plant and machinery.