Firm reports fall in revenue, but profit up 81% to £13.4m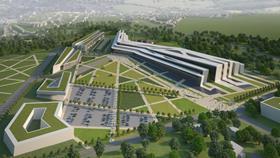 Developer and contractor Henry Boot has reported an 81% leap in its pre-tax profit in the first half of the year despite a 20% fall in revenue.
In its results for the six months to 30 June 2014 the firm reported a pre-tax profit of £13.4m, up from £7.4m over the same period last year.
This came despite revenue falling to £66m, down from £82m.
The firm's revenue fall was largely because the £15m sale of land at its Chocolate Factory site in York in the first half of 2013 was not repeated in 2014.
The results showed that Henry Boot's construction division had performed well in the first half of the year. Although its revenue fell 2% to £40m, down from £42m, it reported a 27% rise in pre-tax profit to £4.4m, up from £3.4m.
Writing in the accounts John Brown, chair of Henry Boot, said: "Contract pricing remains competitive and there are some raw material pricing pressures. However, the opportunities to tender are also very good and we are very comfortable with the current marketplace."
It was the company's property division that contributed the biggest boost to profitability as it reported a pre-tax profit of £3.6m, up from a pre-tax loss of £1.5m.
Pre-tax profit in the firm's land development business, however, slipped slightly to £5.1m, down from £5.3m.
Brown said he was "pleased" with the "strong set of results" and that he now expected "trading profits including revaluation gains" for the year to "exceed" the firm's initial expectations.
"Commercial development activity is now at its highest level since 2007 with new, pre-let developments achieving hurdle rates of return, expected to commence in the second half of the year.
"The combination of this increased level of commercial development, our strategic land sites with well over 10,800 permissioned housing units available for future sale and the solid returns from the construction segment should strongly support growing shareholder returns into 2015 and beyond."