Engineer to swap Clerkenwell for Shoreditch next month
The structural engineer working on AHMM's planned makeover of the IBM building on London's South Bank is moving office after setting up an employee ownership trust.
Heyne Tillett Steel will swap Clerkenwell for larger offices in Hackney next month, with the firm aiming to get all 132 staff back to their desks when lockdown restrictions end in June.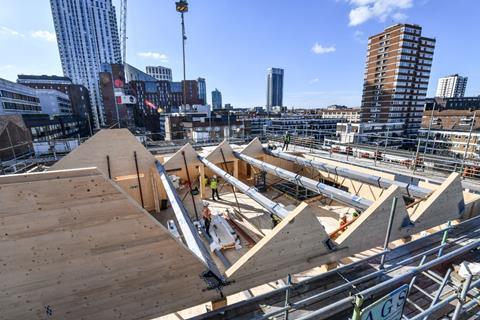 Director James Morgan told Building home working had been "fine, but it feels like you're just kind of treading water. We want to get people back in, collaborating, talking."
He admitted fixing issues over online calls had been challenging. "[It's] so much harder than actually just getting people around a table with some drawings and figuring out problems.
"We're an office-based company and that's where we're best. Having everyone together and just having that kind of enjoyment and working with really smart people as well, I think really pushes you. It's a real component that we've lacked over the last year."
But Morgan said the firm will still have a flexible working policy, with teams allowed to allocate three days in each fortnight when staff can work from home if they want to.
Its new office, which is due to be completed by Hertfordshire contractor Conamar by the middle of May, will stretch across four floors of a repurposed 1930s masonry warehouse in Shoreditch.
The move comes after several years of growth at the 14-year-old business with turnover up 10% to £13.4m in the year to March 2020, according to its latest accounts filed at Companies House.
The firm is also working on Landsec's Timber Square scheme in Southwark, a redevelopment of an existing building and a 15-storey new build providing a combined 430,000 sq ft of office space and which is due to be built by Laing O'Rourke.
Morgan, who was among three new directors to join the firm's existing three founding directors in 2018, said last week's move to an employee ownership trust (EOT) model was made to increase staff engagement and to prevent the ownership of the company being separated from its leadership.
A three-member trust board has been set up as part of the rejig consisting of a trustee for the directors and a trustee for employees along with Michael Holmes, a former financial director at architect Grimshaw, as an independent member.
Morgan said the board, which will meet twice a year, will act like "school governors" to hold the directors accountable and make sure their decisions are in the best interest of employees.
An employee council has also been set up, to act as a link between the firm's leadership, trust board and employees.
Meanwhile, Hertfordshire consultant Plowman Craven has also moved to an EOT following the sale of investors' shares to its employees last month.
According to its last set of accounts, turnover at the surveyor in 2019 was flat at £15.2m.