Nuclear plant and Mersey Gateway announced as eligible for UK Guarantees scheme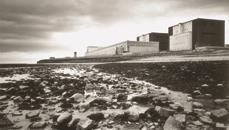 The £10bn Hinkley nuclear plant and the £600m Mersey Gateway construction projects have been offered a guarantee from the government Treasury secretary Danny Alexander announced today.
Setting out the government's £100bn infrastructure plan in the House of Commons this morning, he said the £10bn project will qualify for help under the UK Guarantees scheme, which aims to incentivise investment in infrastructure by government underwriting some of the finance.
The UK Guarantees scheme is designed to unlock £40bn of major infrastructure projects, but to date only the Drax Power Station and the Northern Line extension to Battersea Power Station have been announced as eligible for UK Guarantees.
Alexander said the Mersey Gateway guarantee would be worth up to £500m, and would enable construction to begin early next year. The £600m Mersey Gateway will entail construction of a six land bridge over the river. Earlier this month contractor FCC and Kier won the contract to build and operate the bridge.
He said the government would extend a "multi-billion pound" guarantee to the Hinkley project.
However, Alexander said the government had not yet reached an agreement on the price EDF, the scheme's developer, will be guaranteed for the electricity from the plant, which is crucial element that needs to be in place before the energy giant decides to invest in building it.
The documents published alongside Alexander's statement also said that Treasury was working with the Greater London Authority on plans to support housing regneration in Tottenham through the UK Guarantees scheme, and that 25 projects worth £13.5bn have pre-qualified for a UK Guarantee.
Alexander also extended the UK Guarantees scheme by two years to 2016.
Alexander also said that the government would invest £28bn in roads projects between 2015 and 2021, and confirmed that construction on the 414 would be brought forward two years to 2016.
This includes £10bn of investment in roads maintenance between 2015-16 and 2020-21, with £4bn of that focused on national road maintenance. The remaining £6bn will be spent at the local level.
Alexander said the £100bn infrastructure plan inlcuded £70bn of transport projects, over £20bn in schools and over £10bn in science, housing and flood defences.
Other announcements included:
Committed to the investment needed to bring forward the around 150 schools left in the Priority School Building Programme - with the programme to be completed by 2017, two years early
Committed £21bn for schools investment over the next parliament, including enough funding to build over 275,000 new primary places; 245,000 new secondary places; and open 180 free schools; 20 technical colleges and 20 studio schools a year
pledged £150m for health research infrastructure
£3.3bn over three years from 2015 for affordable housing to build 165,000 new affordable homes
£370m in 2015 for flood defences
£250m for a super prison in north wales. inlcuding £100m in 2015-16
committed £2m to fund a feasibility study into Crossrail 2 in London
confirmed the budget for HS2 had risen by nearly a third to £42.6bn - up from £33bn
announced plans to sell off £5bn of public land and property
the government will introduce a new presumption that significant economic infrastructure projects and programmes should be undertaken by specialist delivery units with commercial expertise, reflecting private sector best practice
Highways Agency to be transformed into publically-owned corporation