EDF boss says government's claim that around 57% of £16bn project value will go to UK firms is only an 'estimation' and is not in its contract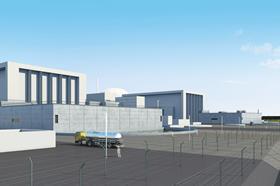 The government's claim that around 57% of the value of the £16bn Hinkley nuclear project will go to UK firms is more an aspiration than a guarantee, the boss of EDF has admitted.
Henri Proglio, chair and chief executive of EDF Group, said that although the government and EDF had announced up to 57% of the work would go to British companies this formed no part of its contract with the government.
He said: "It's very difficult to [put in a] contract. While most of the companies [on the project] are British companies they have a presence abroad or they are in joint ventures with foreign companies, so it's very difficult to say what is the British part compared to the foreign part. It's an estimation."
When energy secretary Ed Davey was asked how he devised the figure of 57% he sidestepped the question, saying only that it had been "a very important part of our negotiation".
Although a number of the major contracts for the project have been let they have not yet been signed.
Vincent De Rivaz, chief executive of EDF Energy, said that the process of finalising them would start this week.
He also said EDF would complete the first of the two reactors at the plant in 2023, two years later than the most recent scheduled completion date.
Speaking to Building, EDF's nuclear new build director of project development Richard Mayson said early engagement with contractors, including Laing O'Rourke and Costain, was behind the decision extend the construction programme in order to take a more "risk averse approach".
Laing O'Rourke, in a partnership with Bouygues, is delivering the £2bn civils package on the plant, while Costain is delivering the £250m marine works contract.
Mayson said the timetable had been changed to incorporate lessons learned from EDF's late and over budget nuclear project in Flamanville, France.
Mayson said lengthening the programme by around 21 months had been a key reason why the construction cost had increased from £10bn to £14bn.
Mayson said EDF would embark on an "enormous amount of procurement activity" for a number of remaining contracts, including a lot of the offsite work such as building a workers campus and improvements to the local road network in the coming months.
"The intention is to be in a place where more contracts can be let in 2014 and that means kicking off procurement early in 2014 or at the back end of this year," he said.