Work expected to be complete by 2022
A US film studio has unveiled plans for a £150m film studio and creative hub at a science park in Reading.
Blackhall Studios, who is behind films such as Godzilla: King of Monsters, Venom and Jumanji: The Next Level, has signed a deal with Reading university to build the studio development at its Thames Valley Science Park.
Graham is currently building a new research and storage facility for the British Museum as part of the same masterplan.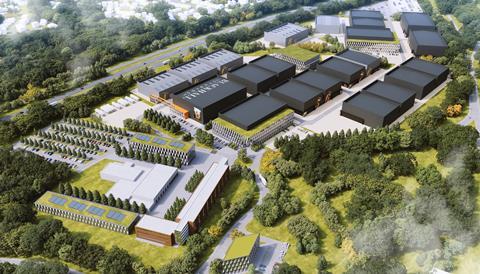 The Scott Brownrigg-designed studio would be located on the remaining land allocated in the original outline planning for the science park in Shinfield.
The studios will also include a cinema and will be the first UK investment for the Atlanta-based firm.
Bidwells is project manager on the project, while the project team also includes Stace, Hoare Lea, Barton Willmore and MLM Group.
Ryan Millsap, chairman and chief executive of Blackhall said: "Our US-based clients like Disney, Universal and Sony are all asking us to expand into the UK to meet their desire to create productions here."
The site is expected to become one of the largest film studios in the country and bring £500m to the UK economy each year.
International trade secretary Liz Truss said the announcement showed the strong trading relationship between the US and the UK.
Construction of the film studio is expected to start in spring 2021, with the aim of being complete by early 2022 subject to planning consent being granted by Wokingham Borough Council.