Far East Consortium launches DEX Construction
The developer on a residential scheme in Manchester left stranded by Bardsley's administration has said the firm's collapse has accelerated plans it was hatching to build out its own schemes.
Hong Kong-based Far East Consortium (FEC) has set up a new contractor called DEX Construction and has appointed Bardsley's former construction director Simon Adams to run the business.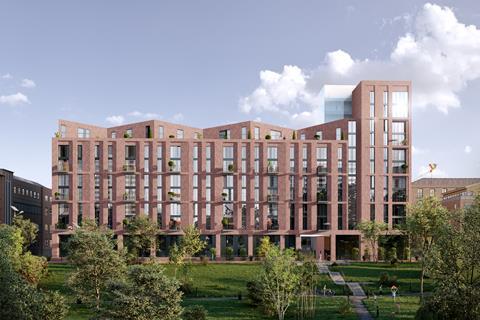 FEC regional manager Gavin Taylor said: "The situation has brought forward our plan to be capable to self-deliver our developments.
"At the same time, as we grow DEX, we will be free to explore opportunities with other developers and investors nationally."
Manchester contractor Bardsley sank into administration days before Christmas with all 200 staff handed their P45s by administrator Duff & Phelps.
The £80m turnover contractor was working on FEC's Mount Yard scheme (pictured) in Manchester.
The 12-storey block of 136 apartments and townhouses topped out in October last year and is due to be completed this summer.
Adams is bringing five former Bardsley colleagues with him as well as the existing subcontractors on the job which is part of a wider £200m housing scheme being jointly developed by FEC and the city council.
Bardsley also had an office across the Pennines in Leeds and had been going since the mid-1960s.