Housebuilder shares outperform contractors on the London stock exchange over last five years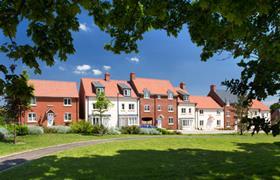 Housebuilder shares massively outperformed their contractor rivals on the London stock exchange over the course of this parliament, analysis conducted by Building has revealed.
The analysis was conducted as the election campaign formally began this week, bringing an end to a government that has helped housebuilder shares soar.
According to a sample of seven major housebuilders and seven major contractors, the average housebuilder share price increased by 238% over the past five years, compared with just a 41% increase for the contractors sampled.
The best performer among all the individual firms sampled was housebuilder Taylor Wimpey, with its share price up 347% over the period from 35p to £1.55.
All the firms' share prices were compared between close of trading on Friday 14 May 2010 - the week that the Conservative and Liberal Democrat coalition was formed - and close of trading on Tuesday (30 March 2015).
All seven housebuilders enjoyed share-price increases of more than 100% over the period, with Barratt joining Taylor Wimpey in breaking the 300% growth mark, while Persimmon and Berkeley notched up positive share price percentage changes of over 200%.
There was a more mixed picture for contractors. Four contractors achieved share price growth, led by Interserve with a 171% jump in its share price.
Carillion's share price fluctuated greatly over the period, hitting highs of around £4.00 and lows of around £2.40, but ultimately stood at the same price on Tuesday as the week the coalition government was formed, at £3.30.
Both Balfour Beatty and ISG's shares were down 9% over the period.
Analysts said the positive share-price jumps for the housebuilders reflected the positive impact of coalition government policies over the period on the housing sector, including Help to Buy.
Tony Williams, chairman of analyst Building Value, told Building that contractors were paying the price for taking on low-margin work in order to keep operating during the period.
He said: "If you go in at a very thin margin or break even, then if just one thing goes wrong, you can lose a lot of money."
However, he said that large government infrastructure projects coming forward would provide "oodles of work" for contractors over the next few years.
On housebuilders, he said: "Prior to 2010, they wrote down a huge proportion of their assets. You and I could be successful housebuilders if we did that."
Stephen Rawlinson, analyst at Whitman Howard, put much of the disparity between the performance of housebuilders and contractors down to the stage of the economic cycle.
He said: "Contractors tend to lag behind housebuilders in feeling the effects of highs and lows.
"Some of the bad projects they picked up in 2011 to 2012 are now working their way through and we are positive that performance will pick up.
"However, they have got to clean up their act - there have been a number of accounting hiccoughs and it will take some time for the market to regain its trust in the sector."