Effect of government incentives felt as sales, mortgage lending and demand for homes rise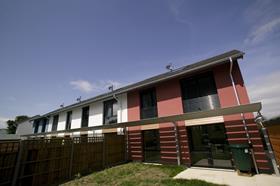 Positive figures for mortgage lending and house sales this week capped a series of strong trading statements from four of the UK's biggest listed housebuilders.
The figures from a raft of interim management statements from Barratt, Taylor Wimpey, Persimmon and Bovis, described a slowly improving market for the major builders, and stood in stark contrast to a series of profit warnings from contractors such as Balfour Beatty, Severfield-Rowen and Morgan Sindall in the last week.
They came as the RICS' monthly housing survey showed buyer demand for homes rising at the fastest rate for more than two years in October, with a balance of 18% more surveyors seeing demand rising than falling. It also found the number of sales per surveyor rose, from 14.9 to 15.2. And while it found house prices were still falling in marginally more places than they were rising, the falls were the least widespread for almost 18 months.
At the same time the Council of Mortgage Lenders released figures showing that house purchase lending rose 13% in the third quarter of the year, although monthly lending rates continue to be highly volatile.
Barratt, alongside other housebuilders, reported that trading conditions for the last three months had marginally improved compared with the same period last year, with an average of 0.54 sales per site per week. In addition, forward sales for next year were 21% ahead of the same point in 2011.
It also said government initiatives, including the NewBuy mortgage indemnity scheme, were aiding sales, with 9% of sales in the period coming from NewBuy. This was echoed by David Ritchie, chief executive at Bovis Homes, who said that just over 10% of sales were coming from that route, and he was "hoping this was going to build in the next few months".
The housebuilders and mortgage lenders have been redoubling their marketing efforts around NewBuy since September, and Taylor Wimpey said that "approaching 10-15%" of sales were through that route.