HBF and RICS asking for relaxation to lockdown rules amid fears activity could halve despite return to site
Housebuilders are in urgent talks with the government over how to relax lockdown rules on the housing market in order to prevent a calamitous drop in the volume of new house building.
While several of the largest housebuilders have heeded government calls to reopen sites in recent days, there are growing fears that the industry will remain on a go slow until rules hindering the buying and selling of homes are relaxed.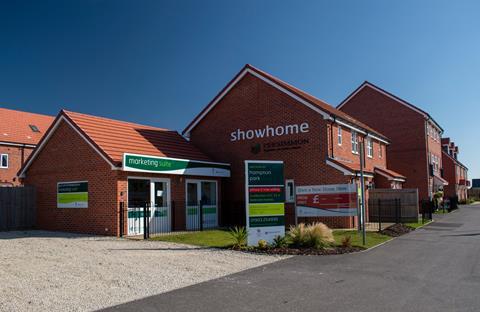 In the days after the lockdown was brought in six weeks ago, the government released guidance on home buying and selling which effectively prohibited all but critical house moves.
While the guidelines on moving house are slightly less restrictive regarding new build properties, which are empty, than second-hand homes, general lockdown restrictions have shut sales offices and marketing suites while the inability of existing home owners to sell their properties means very few will be in a position to buy a new build.
Estate agent Knight Frank has estimated that housing transactions will slump by 38% this year, leading to a one third drop in new home construction.
Stewart Baseley, executive chairman of the Home Builders' Federation (HBF), which represents the housebuilding industry, said the body was working with government on how to ease the guidelines.
He said the current restrictions meant there will be "a limit to how much activity can proceed until the government feels able to update this guidance. Government has a role to play here working with industry to help coordinate and support a restart."
A spokesperson for the HBF said the body was working alongside the RICS and other industry groups to get the home selling process moving again.
Housebuilders including Barratt, Taylor Wimpey, Persimmon and Vistry are among those to announce plans to restart construction, with housing secretary Robert Jenrick calling on others to do likewise.
But firms which have begun remobilising have warned it is being done on a gradual basis. Bellway said focusing primarily on "those properties that are in the latter stages of construction" when it restarts next week.
And another to reopen sites, Redrow, said normal trading conditions wouldn't return until there was "a relaxation of the government's ongoing advice about moving home… and the reopening of sales complexes that remain closed under lockdown restrictions".
Cenkos analyst Kevin Cammack said housebuilders are unlikely to raise production levels above 50% for at least the next two or three months, adding that without the relaxing of rules governing buying and selling "all you will get is a return to site to finish off those homes you've already got reservations against – you won't start any new things".
A housing ministry spokesperson said the government was keeping the guidelines under review and was in regular contact with all parts of the housing industry.