Housebuilders and CBI urge government to focus on housing as the key to the UK's recovery from recession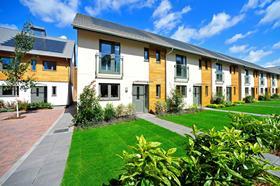 The housing sector has joined forces with the CBI to demand that government focuses its bid to drive on growth on housebuilding.
New housing minister Mark Prisk last night attended the launch of the Homes for Britain campaign, which claims that every pound invested in housing will generate £3 in the wider economy.
The campaign, which is backed by a 40-strong coalition including the HBF, the National Housing Federation, the RIBA, Chartered Institute of Housing and homeless charity Crisis, argues that significantly boosting supply will spur economic growth as well as tackling the growing housing crisis.
A packed reception event at the Tory Party Conference in Birmingham was enlivened by an impassioned call-to-arms by CBI director general John Cridland.
"I believe the single most important thing that the government can do at the moment to get the economy moving is to get housing market moving," Cridland said. "I'm a cheerleader for growth so consequently I'm a cheerleader for housing."
Cridland added that housebuilding had the advantage of being fast to deliver and meaning something to the general public.
"Housing is visual, housing is tangible, housing is immediate", he said.
Cridland applauded the "powerful set of measures" that government has brought in such as FirstBuy and NewBuy but said more needs to be done to tackle mortgage availability, especially for first time buyers.
He concluded: "We have a coalition of the willing…we need, and I don't mean to be flippant, a housing version of the Olympics. We just need to show we can get on and do something on time and on spec, today."
Prisk welcomed the campaign and the fact that the sector is speaking with a single voice.
He said: "I strongly support the principle that we need to build not only more homes but also better homes for families.
"We understand as a party that the housing sector and the construction sector are an important part of the wider economy."
However, he warned there remains a "real challenge" in tackling supply given the "disfunctional housing market that the government has inherited".