Clarion to start overhauling south London estates next year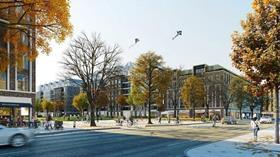 Clarion Housing Group has acquired a key site in South Wimbledon to kick-start its plans of a £1bn regeneration of three south London estates.
The company landed the Old Lampworks site late last week, with the first phase of regeneration at High Path to be built on the site and adjacent garages.
Merton Council granted planning permission for 134 homes to be built on the land earlier this year.
In April, Clarion submitted outline planning applications for 2,800 new homes across High Path and two neighbourhoods in Mitcham, Eastfields and Ravensbury as part of the Merton regeneration scheme.
Under the proposals Clarion will redevelop these estates and rehouse all existing tenants and resident homeowners who wish to remain.
Architects working in the scheme include PRP, HTA, Levitt Bernstein, Proctor and Matthew and Cullinan Studio.
Construction work at High Path is due to start next summer with the first residents expected to move in in early 2020.