RICS market survey warns labour shortages are holding back UK construction growth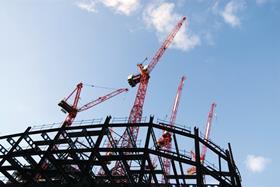 Over a third of surveyors say labour shortages are holding back UK construction growth, according to the latest RICS Construction Market Survey covering the fourth quarter of last year.
In the survey 36% of surveyors told the RICS that labour shortages are restricting building, particularly in trades connected to the housing sector, including bricklayers.
A higher percentage of respondents are now reporting problems sourcing relevant skills than at any time since mid-2006, RICS said.
Respondents also said they were having trouble sourcing materials, with 40% of surveyors saying a scarcity of materials was limiting activity, while surveyors noted bricks and concrete blocks were in particular short supply.
Despite signs of skills and materials shortages, surveyors reported the fastest increase in construction activity for any period on record, with 38% more respondents on balance reporting an increase in activity rather than a decrease in the fourth quarter.
Private house building continued to lead the way, while the industrial, commercial and infrastructure sectors also enjoyed strong growth over the period.
The improving picture in the construction sector is also visible at a regional level with workloads rising for the second consecutive quarter in all parts of the country
Expectations for future construction activity were upbeat with 74% more chartered surveyors expecting workloads to increase rather than decrease during 2014.
Surveyors are also more confident that profit margins will increase than at any time in the last 15 tears.
Access to finance remains the largest impediment to increased activity, according to surveyors, with 73% citing this reason.
Alan Muse, RICS director of built environment, said: "With the economy having turned a corner in recent months, it would seem that the construction industry has followed suit and activity is up right across the country.
"More homes are being built, infrastructure is being upgraded and each part of the UK is benefiting from this more positive picture.
"However, with recent estimates stating that over 230,000 new homes need to be built just to keep up with population growth, further initiatives from the government will be necessary to get close to this target."