Allan Cook says scheme was priced at £56bn 'without the benefit of any investigation of ground conditions'
Ground conditions that were ignored when the government priced HS2 are now to blame for delays and cost hikes, the scheme's chair has said.
The £56bn price-tag for Europe's largest infrastructure project was locked-in by the Treasury four years ago and remains unchanged after yesterday's spending round statement – despite chairman Allan Cook's view that HS2 will cost more than £80bn.
The cost is split into funding of £27.6bn for phase 1 - London to Birmingham - and £28.1bn for phase 2 - from West Midlands to Manchester and Leeds.
But in a 58-page appraisal of the project published this week, Cook, an ex-chairman of Atkins who took over from Terry Morgan at HS2 last December, said the cost of phase 1 could have skyrocketed to as much as £38bn, with delivery up to five years late.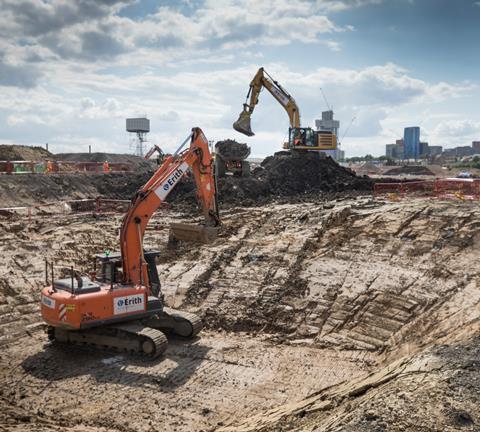 He said this is largely because "ground conditions are significantly more challenging than predicted," adding: "Stations, railway systems and integration plans are all less well developed as would be expected at this stage."
Cook said: "The longer construction period is driven by the same factors that are driving cost pressures including, inter alia, allowing additional time for ground settlement in preference to costly ground stabilisation prior to installation of high-precision concrete slab track."
And he revealed that scrutiny of ground conditions and other elements of the phase 1 scope did not inform the funding envelope outlined in 2015.
"The funding at [the 2015 spending review] took into account estimates based on initial client estimates derived from desktop drawings for the hybrid bill and without the benefit of any investigation of ground conditions or similar levels of detail across all areas of scope," he said.
But he defended the estimates, saying they were "based on the best available estimates at the time and reflect the maturity of the programme prior to Royal Assent for phase 1".
He added that it had been difficult to price-in contingency to reflect risk, due to the "scale and complexity of HS2 making this process even more challenging than for other large-scale projects."