High speed rail client begins hunt for consultants and contractors on three frameworks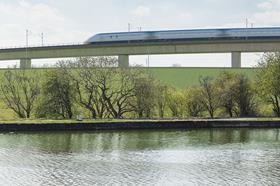 HS2 Ltd has issued tenders for up to £1.4bn of work for consultants and contractors, as the momentum behind the high speed rail project gathers pace.
The client is tendering for contractors for £900m of enabling works and a £250-300m engineering delivery partner for the first phase of HS2, which will link London Euston to Birmingham Curzon Street.
The enabling works tender will cover four years and is split into three lots worth £300m each, covering the southern, central and northern portions of phase one.
HS2 is tendering for a single engineering delivery partner for phase one, covering a ten year period.
The client has also issued a tender for £75-150m worth of consultancy work on the second phase of HS2, which will link Birmingham to Manchester and Leeds.
This tender is split into five lots and covers seven years. The first lot covers civil engineering and structural design services, the second environmental services, the third railway systems application design services, the fourth site access, land refrencing and landowner engagement, and the fifth overall programme management and co-ordination.
While the final route of phase two has yet to be confirmed by government, the phase two consultants will begin assessing and designing options for the line, with a particular focus on the first 50 miles north of Birmingham.
The phase one tender for enabling works and the engineering delivery partner are here and here. The phase two consultancy tender is here.