Director of dRMM appointed chair of independent panel to oversee design quality of mammoth HS2 project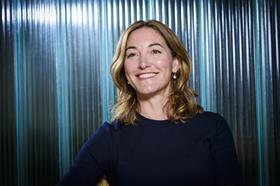 Co-founder and director of dRMM Sadie Morgan has been appointed as chair of the independent design panel for HS2.
Morgan, who was appointed by HS2 after an exhaustive interview process, will head the independent body that will scrutinise all aspects of the design for the £42.6bn infrastructure project.
Morgan will work with HS2 to appoint a team of experts from within architecture and engineering to oversee all aspects of the design for the project.
Speaking to Building about the design panel Morgan said it would be a "critical friend" of HS2, which would work collaboratively to ensure the design principles laid down in the project's Design Vision - launched today - were adhered to: "Design will be a focus of absolutely every nuance of the process of building HS2.
"The design panel will be a critical friend and an independent body of people who will be drawn from the widest range of expertise who will have the skills and understanding to assist HS2 in every area of design.
"Each place that the HS2 process will touch will touch people's lives. There are lots of challenges and if we carefully work our way though them and in a sensible and non-confrontational way, which we will try to make as collaborative as possible."
The appointment is the culmination of a career which has already seen Morgan work with the Olympic Delivery Authority to advise on the legacy of the 2012 Olympic Games, Morgan was appointed as only the fourth woman as president of the Architectural Association in its 150-year history. She is due to step down from her year-long appointment as president of the Architectural Association shortly and begin her role as the HS2 design panel chair.
Speaking about the design vision Morgan said: "The Design Vision is about having a national language with a regional dialect.
"It is about making sure you have a clear vision and is clear and understandable for everyone who have to adhere to it, but not restrictive."