Design principles to guide all aspects of £42bn HS2 project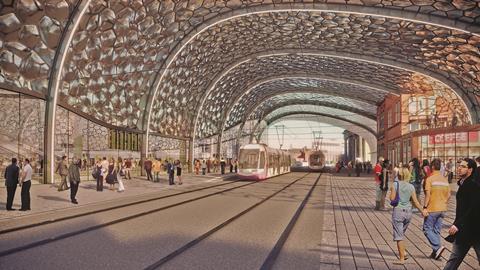 HS2 has released the 'Design Vision' which will guide the development of the £42.6bn infrastructure behemoth.
The vision has been drawn up by HS2 in collaboration with key industry experts to guide the design of all elements of the infrastructure project from the stations, trains and railway lines through to the ticketing system and even the look of the HS2 website.
HS2 met with over 40 leaders in architecture, design, transport and engineering to help draft the Design Vision, including the designer of Google's planned new Californian HQ Thomas Heatherwick as well as David Chipperfield, Jim Eyre from Wilkinson Eyre, Jerome Frost from Arup and London Eye lead structural engineer Jane Wernick.
The publication came as it was revealed Sadie Morgan, co-founder and director of de Rijke Marsh Morgan Architects (drMM), will head up a new HS2 design panel to scrutinise plans for the scheme and ensure the Design Vision was implemented.
The Design Vision states that HS2 will engage with communities over the life of the project to "inspire excellence through creative talent". The vision focuses on three core principles of 'people', 'place' and time'.
According to HS2 the biggest transport project for 150 years will ensure communities are engaged over the life of the project and design places and spaces that support the quality of life, and adapt for future generations.
The Design Vision also outlines how the project will stand the test of time by being able to adapt for future generations, place a premium on personal time for customers, and make the most of the time to design.
The design document states: "We know we are successful in designing a place when HS2 supports wider regeneration and connectivity to improve quality of life; local projects"
Ex-chair of the design council David Kester, who has worked with HS2 to put together the design panel, said: "HS2 recognised that design was going to be really critical to the success of the whole project, it's actually how the idea in all its different manifestations comes alive.
"If you are going to do that and do it well you need to make some key unifying principles. You are going to have maybe upwards of 10,000 to 15,000 people working as designers and engineers working on a project like this, it's a big project over many, many years and all the many different communities which want to engage."
Speaking about the importance of design in the success of HS2 Birmingham-based architect Glenn Howell's said: "Many infrastructure projects get tangled up with the idea of efficiency; however what cities thrive on is people being in them and spending time in them.
"Culture and infrastructure go hand in hand and this could be an opportunity for HS2. Places such as New Street Station can become destinations in their own terms and design is a key ingredient to achieve this."