Transport department official has revealed HS2 chair Allan Cook is working to ensure there is the 'right level of challenge' at board level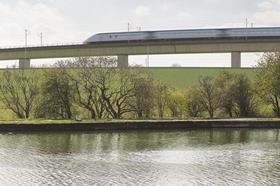 HS2's leadership is working to strengthen its board in the wake of the problems that have emerged about the running of Crossrail.
Bernadette Kelly, a Department for Transport permanent secretary, has revealed that HS2 chair Allan Cook will beef up the board as the fallout from Crossrail's budget and timetable overrun continues.
Speaking to the Public Accounts Committee on Wednesday, Kelly said: "I think a really important lesson is how you ensure at all points in the project that you have a board that has the right skills and is providing the right level of challenge to the executive.
"Allan Cook is strengthening the board to make sure he can do that."
Cook took over as chair last year when Sir Terry Morgan was forced to resign after just five months in the post due to the fallout from his role on Crossrail.
Kelly also said that it was also important to consider how wise it would be to have a set completion date, saying there needed to be a level of realism: "We have learned from Crossrail that a fixation on set dates, especially when you set that 10 or 15 years out, can drive cost and inefficiency and delay in the end."
The comments came as the House of Lords' economic affairs committee recommended HS2 push back its £1.5bn redevelopment of Euston station in order to cut costs. In the event this took place Old Oak Common would become, at least temporarily, the London terminus for HS2.
It said Northern Powerhouse Rail and Phase 2 of HS2, the northern section of the route, should be treated as one programme and condemned the decision to start building HS2 from the south.
A team made up of Mace and Spanish firm Dragados was appointed to build Euston station in February.