Economic affairs committee calls for the £1.5bn project to be removed from HS2's first phase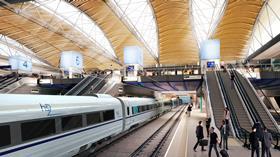 The Mace-led redevelopment of Euston station should be postponed in favour of building the northern section of HS2, a House of Lords committee has said.
The economic affairs committee said it has "serious reservations" about the cost-benefit analysis that determined whether HS2 was value for money.
According to its report, Rethinking High Speed Two, the committee feels the £56bn high-speed rail line "appears to be out of control," noting testimony from former chairman Sir Terry Morgan, who said "nobody knows" how much the final price tag will be.
It said Northern Powerhouse Rail and Phase 2 of HS2, the northern section of the rail line, should be treated as one programme and condemned the decision to start building HS2 from the south.
It said: "Construction on HS2 should have started in the north.The decision to build HS2 from the south upwards means that London, already the city expected to gain most from the project, will also receive the benefits of the new railway long before northern cities will.
"We agree with Sir Terry Morgan that the redevelopment of Euston station should be removed from the scope of Phase 1 of High Speed 2. Old Oak Common should operate as the London terminus for Phase 1 and Phase 2a."
The committee said it was disappointing the government had ignored its recommendation to assess the cost saving that could be made by terminating the line at Old Oak Common.
It said: "The government has argued that HS2 has to finish in 'central London', which is taken to mean Euston. But this does not follow. What matters is not the single point of the terminus, but the connections that enable passengers to get to their final destination.
"Onward journey times to final destinations using the Elizabeth Line from Old Oak Common appear in most cases to be comparable, or better than, continuing from Old Oak Common on HS2 to Euston."
It said delaying the £1.5bn Euston project until Phase 2b of the scheme would allow time for a full assessment of the changes needed to allow Old Oak Common to operate as the London terminus to the full HS2 network and the cost saving that would achieve.
It also recommended that the government publish its analysis of the cost savings from reducing speed and terminating at Old Oak Common alongside the full business case by the end of 2019.
A team made up of Mace and Spanish firm Dragados was appointed in February to build the station.
The committee was following up on its own 2015 inquiry, in which it said there was a strong case for improving regional rail links in the north – which the government had failed to consider.