Design panel chair advises contractors to team up with architects as tenders are published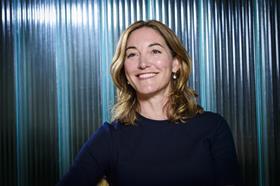 Architects of all sizes should be able to find work on the next phase of HS2, the chair of its design panel has said.
The tenders are due to be published next month and Sadie Morgan said HS2 Ltd would have to think carefully about the procurement process.
"We need to make it possible that these opportunities are open to everyone, big or small. How we do that needs careful consideration," she said.
She advised contractors to team up with architects if they intended to bid any of the work.
"Architects will have to bid in teams but HS2 is serious about design and contractors need to be serious about design. It's a massive opportunity for architects."
Speaking at the Ecobuild conference last week, the architect and co-founder of dRMM admitted she would have liked to see the HS2 design panel created even earlier in the process. But she said lessons from phase one were being adopted in phase two.
More than 300 people applied to join the panel before the 45-strong group was finalised last November.
Morgan, who is also a member of the government's National Infrastructure Commission, told the Ecobuild conference: "If the panel had been set up way back, then it could have had an even greater impact.
"But we can't harangue HS2 over this. The panel has been set up much earlier than a panel like this has ever been put in place for a scheme like this."
Morgan bemoaned the split between engineers and architects over the years and said the two professions needed to start working closer together.
She said: "There's a silo mentality. For a long time the glue that has held us together has broken apart. As a group of creatives we need to get our voice back."
Morgan added that big infrastructure projects needed to draw on the inspiration of engineers from the past. "It's very important if we're going to spend £100bn, then it lasts 150 years. The Victorian sewers we have are extraordinary feats of engineering and architecture."