Richard Robinson was US firm's head of civil infrastructure in Europe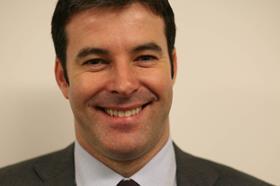 HS2 has raided Aecom's infrastructure department to bolster its leadership team.
Richard Robinson (pictured), who has been Aecom's chief executive of civil infrastructure in Europe, Middle East, India and Africa since 2014, has been appointed chief operating officer at HS2.
Before being handed the chief executive role Robinson was Aecom's managing director for infrastructure. In both roles he led a team of 8,000 people across four regions.
Prior to this, he was the head of Aecom's transport business, while he held leadership roles at rail link Heathrow Express and mining group Anglo American before he joined the firm.
Robinson said: "I am thrilled to be joining the team at HS2 Ltd. Working on Europe's largest infrastructure programme is an exciting prospect and I look forward to playing my part in a project that will leave a significant legacy here in the UK."
HS2 has also confirmed that Michael Bradley is joining the company as chief financial officer.
Bradley comes from Defence Equipment and Support (DE&S), an arms-length body of the Ministry of Defence, where he is chief financial officer and director general resources. He has also been DE&S's acting chief executive since last December.
At HS2, he will be leading the finance team, corporate sponsorship, and the programme management office.
A fortnight ago HS2 confirmed that it had nabbed the chair of Crossrail to become its next chairman.
Transport secretary Chris Grayling announced the appointment of Sir Terry Morgan as the new chairman for HS2 on 13 July.
He will take over from Sir David Higgins on 1 August.