Announcement of new further education college comes as Sir David Higgins takes reins as chairman of £43bn project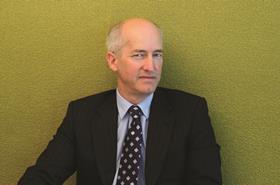 A dedicated further education college is to be create to help train engineers to help build the high-speed rail line to the north of England, the government has said
News of the new college came as Sir David Higgins (pictured) officially took on his role as chairman of the £43bn project.
Students at the new college will be trained in the skills needed to construct the railway, with the college set to open in 2017. It will be England's first new further education college for 20 years.
A location for the college has not yet been identified.
Taking the reins of the controversial project today, Higgins, the former chief executive of Network Rail and boss of the Olympic Delivery Authority, said he was confident that the project would enjoy cross-party support.
This comes after Labour has increasingly placed its commitment to HS2 under doubt, with senior party figures including shadow chancellor Ed Balls, warning that the party would withdraw its backing for the project if costs continued to rise.
But speaking on the BBC's Radio 4 Today programme, Higgins said he was confident the HS2 project now enjoyed support from all main parties.
"I think so, yes. We've certainly got a good line of communication with both sides of the Government and the Opposition."
He admitted the shadow chancellor's concerns over the cost of the project were widely shared. "I did meet with Ed Balls after that - I think his concern was we don't want this project to blow out on costs, and that's the concern that many in Parliament will share," he said.
"The most important thing now, particularly over the coming months, is to have a proper engagement with the Commons and the Lords and explain the work that's going to happen over the next few months."
Higgins said he was reviewing the project in a bid to drive down costs. "The first thing I want to look at is the overall deliverability time - can we make it quicker; can we get benefits to the North earlier; and then how can we deliver it most effectively; and hopefully that will deliver cost savings," he said.
He said he would be submitted a report on the project to the transport secretary before "in mid-early March".