Tech to be used by Costain, Skanska and Strabag on tunnels between Euston station and the M25
HS2 is planning to use a five-tonne robotic arm to 3D print sections of the £100bn railway under plans to reduce carbon emissions and costs.
The technology, the first of its kind to be used in the UK, will use concrete mixed with graphene to build up components on site layer by layer.
It will initially be used by SCS Railways, a JV between Costain, Skanska and Strabag, on the tunnels leading from the line's central London terminus at Euston station to the Colne Valley viaduct near the M25.
HS2 said that the tech could be used on multiple structures on the route including columns, walls, bridge parapets, staircases and station platforms.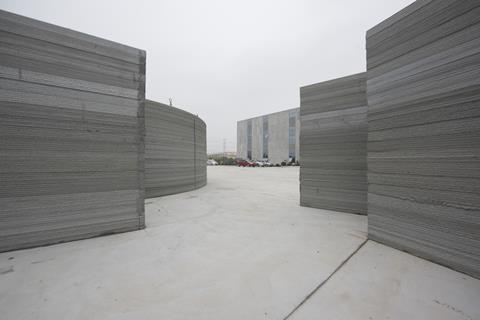 The 3D printing robot arm system, which has been developed by Worcestershire firm ChangeMaker3D, will have a 3m by 3m sweep and will follow a pre-set programme.
The firm said that the use of graphene, which can make concrete up to 30% stronger, could reduce the overall quantity of concrete needed for the project.
HS2 claimed that the approach could cut carbon emissions by as much as 50%. It is also hoped that the tech will reduce disruption on roads by removing the need to transport precast concrete sections by road.
Disruption caused by HGVs has been one of the most contentious aspects of the project, with Buckinghamshire council refusing to approve an application for HS2 to send lorries through part of the county in March.
Council leader Martin Tett called the use of lorries a "massive issue" for the county because of their impact on highway traffic and the local environment in terms of noise and pollution.
Last week, HS2 said it had received 500 complaints from the public about construction in the first quarter of this year and was bracing for the number to increase.
The project is already using robot arms in the giant tunnel boring machines being used to build the 16km tunnels beneath the Chiltern Hills.
The robot arms, the first of their kind in the world, use a vacuum lift to pick up the tunnels' concrete ring section and remove the spacers which separate them before inserting dowels into the sides of the segments to fit them in place.