Unsecured creditors owed more than £50m
Failed contractor Simon Construction had a pension deficit of more than £30m when it went under, with a report by the administrator revealing that unsecured creditors are owed more than £54m.
The Lincoln-based business collapsed at the end of October, along with its parent Simons Group and two sister firms involved in developments and design.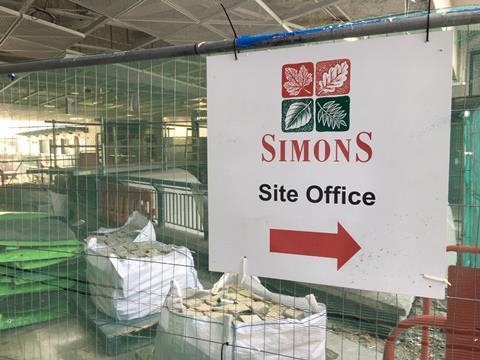 In its last report and accounts for the year to March 2018, Simons Group had a turnover of £105m, returning to the black with a pre-tax profit of £704,000 following a £3.9m pre-tax loss the previous year.
The bulk of the group's turnover was from its construction business, with income from this division in the year to March 2018 standing at £99.4m and a pre-tax profit of £876,000.
FRP Advisory, the administrator, said Simons Construction owes around 500 unsecured creditors just over £54m, with its pension scheme liability standing at £30.3m.
In a separate report for Simons Group, FRP said the firm had been making payments of around £90,000 a month to reduce its pension deficit and added: "The group and subsequently the company were relying on Simons Construction to generate sufficient profits and cashflow to afford the scheme payments."
But FRP said a cost-cutting plan introduced by Simons Construction was "not sufficient to offset the losses being incurred from project delays. The company could not aggressively reduce its cost base in the short-term as it needed capability to meet higher turnover levels."
Simons made an offer to the pension scheme's trustees at the beginning of October "to remove the pension as a liability of the company and the group". But the offer was rejected six days later after a review by the pension regulator and the Pension Protection Fund.
"Following the rejection, FRP assisted the directors to continue to plan for an insolvency scenario that would maximise the return to creditors (both the company and group)," FRP's report added.
FRP was formally appointed on 29 October. It had been brought in seven months earlier to address "declining cash balances and improve underlying performance".
Its administrators' report for Simons Construction places a figure of £8.9m against contract cost accruals, while employees are owed nearly £1.5m in missing redundancy claims and other payments.
HMRC is owed just over £527,000 while hundreds of trade creditors are facing hits totalling more than £12m.
Among them, Nottingham electrical firm Imtech is owed £951,000 and East Yorkshire cladding contractor Ashford Cladding Systems is due £578,000.
Others facing losses include recruitment firm Hays, owed nearly £28,000, lift firm Kone, due close to £176,000, and Wakefield-based structural engineer Nationwide Structures, owed more than £447,000.
FRP said there "will be funds available to make a distribution to unsecured creditors" but declined to say how much. It added: "It is currently estimated that the preferential claims will total c£73k, being the employees' preferential element for holiday pay."
In its report for Simons Group, creditors are owed nearly £16.5m with the largest figure being a £6.8m pension scheme liability.
Simons Group was established in 1944 and employed 124 staff at the time of its collapse.