Architecture practice SOM proposes resi scheme for central London site after conducting feasibility study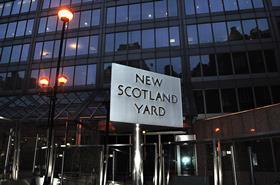 A huge London development opportunity goes on the market today as the capital's Metropolitan police force puts its New Scotland Yard headquarters up for sale for £250m.
The Met is moving from New Scotland Yard in Victoria to an AHMM-designed redeveloped headquarters in the Curtis Green Building on London's Embankment, as part of the force's estate strategy to reduce its property portfolio by a third by 2016.
The Met told Building the 1.7 acre, 600,000 sq ft New Scotland Yard site will not be marketed for any "specific type" of development, although a spokesperson said US-based architecture practice SOM has conducted a feasibility study for the Met recommending a residential scheme for the site.
The Met estimates the site could be used for a scheme costing around £50m and visualisations supplied by the Met of an indicative replacement scheme (pictured, below) suggest they expect the 1960s blocks to be knocked down to make way for a replacement development.
The Met has not obtained planning permission for any new scheme, leaving this to the buyer.
The sale is being handled by property agent Jones Lang LaSalle, who will market the scheme as 'Ten Broadway'.
The Met said it will reinvest the proceeds of the sale back into modernising its estate, mobile technology for staff and more officers on the street.
Since March 2013 the Met's estate rationalisation strategy has so far resulted in 32 buildings being sold and 22 leaseholdes terminated since March 2013, netting the force £125m in capital receipts.
Overall up to 200 buildings will be sold by 2017.
Built in 1935, the Met's new home at Curtis Green Building has housed various Met operations since the Second World War, but was vacated in late 2011.
The Mayor of London Boris Johnson said: "Londoners have backed our drive to put bobbies before buildings and the long-awaited sale of new Scotland Yard building will allow us to boost frontline policing and keep officer numbers high.
"By turning dilapidated and under-used buildings into high-tech kit we are giving the Met the tools they need to keep driving down crime in the capital, making them more connected to Londoners than ever before and ensuring they are prepared to face the challenges of policing in the 21st century."