"Operation Magnify" results in more than 250 arrests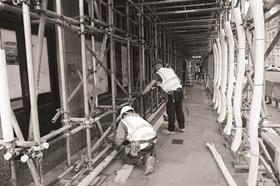 More than 250 people have been arrested during the first phase of an ongoing national campaign to tackle illegal working in the construction industry.
"Operation Magnify" began in October as an Immigration Enforcement drive to stamp out illegal working by targeting specific 'risk' industries.
The first phase, targeting the construction industry between 11 and 18 October, saw officers conduct 69 enforcement visits to businesses, which resulted in the arrest of 257 individuals at building sites and residential addresses.
Immigration Enforcement also issued referral notices to nine businesses warning that they may be liable for financial penalties of up to £20,000 per illegal worker arrested.
A total of 74 suspected breaches of the illegal working legislation were exposed during the construction industry phase of Operation Magnify, meaning that a potential total of £1,480,000 of civil penalties could be issued to employers.
A visit to a Sword Construction Ltd building site in Chester on 12 October resulted in the arrest of 20 illegal workers. The potential penalty of £400,000 is under consideration and is the largest of the campaign.
During 2016, Operation Magnify will continue to focus on the construction industry and be extended to other sectors.
Immigration Minister James Brokenshire said that illegal working undermined legitimate employers, driving down wages and denying employment to UK citizens and legal migrants. "Operation Magnify is all about disrupting illegal working and making life impossible for employers who do not play by the rules. The results show that the cross government approach is working.
"While we are happy to work with those businesses to help them carry out the right checks on their staff, those who do not play by the rules could face severe financial consequences."
Brokenshire added that the Immigration Bill currently going through Parliament will make it easier to prosecute those who know, or reasonably suspect, that an employee has no permission to work in the UK.
The government is also increasing the maximum sentence for this to five years and giving new powers to close businesses or remove licenses.