Consultants part of three consortiums to win work on mega-project in Riyadh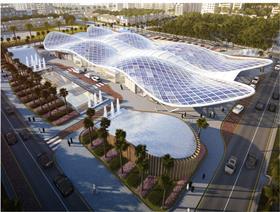 Consultants Aecom and Hyder are among the firms that have been selected to build the $22.5bn (£14.7bn) Riyadh metro lines.
The project will entail construction of six lines in the Saudi Arabian city, which will be undertaken by three consortiums led by US giant Bechtel; Spanish contractor FCC Construction; and Italian firm Ansaldo STS respectively.
The Bechtel-led BACS consortium, which includes Aecom, will design and build two lines totalling 63.3km under a contract valued at $9bn (£5.9bn).
The FAST consortium, led by Spanish contractor FCC Construction, will deliver three lines covering 72.5km for $7.8bn (£5bn).
While the Arriyadh New Mobility group, which includes Hyder Consulting and is led by Ansaldo STS, will build one line totaling 40.7km under a contract valued at $5.2bn (£3.4bn).
Construction is set to begin in 2014.
Ibrahim Bin Muhammad Al Sultan, president of Arriyadh Development Authority said the citizens of Riyadh "deserve a world-class public transport system".
He added: "This is the biggest infrastructure project to be undertaken in the Kingdom of Saudi Arabia and is a cornerstone of the bold future we envision for our city."
Juan Béjar, chief executive of FCC, said: "The Riyadh metro contract consolidates Spanish companies' international reputation in global civil engineering projects. FCC'S references were instrumental in our successful bid for this project."
Architect Zaha Hadid has already been appointed to design one of the main stations on the network.
Full consortiums members
BACS
Bechtel
Stemens Aktiengesellschaft
Al Mabani General Contractors
Consolidated Contractors company
Aecom
FAST
Alstom transport
FCC Construction
Samsung C & T Corporation
Strukton Civiel
SETEC
Tecnica Y Proyectos
Arriyadh New Mobility
Bombardier
Ansaldo STS
Impregilo SpA
Larsen & Toubro
Nesma & Partners
Hyder consulting
IDOM
Worley Parsons Arabia