CPA's warning of falling growth comes despite new PM's weekend pledge to speed up building Leeds-Manchester link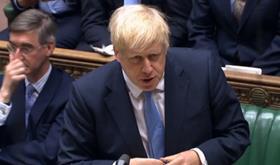 Concerns about the future of major infrastructure projects under a Boris Johnson government have seen the Construction Products Association revise down its output forecast for the next three years.
Nervousness about the new prime minister's commitment to some big-ticket schemes has grown despite at the weekend Johnson saying he wanted to accelerate plans for a high-speed line between Leeds and Manchester as part of the HS3 initiative.
He said full details of the proposals, expected to cost close to £40bn, would be published in the autumn after a review of HS2 has been carried out.
Johnson has been a vocal critic of HS2 and has asked the £56bn scheme's former chair Douglas Oakervee to head up the review.
The new prime minister (pictured) has also been a long-standing critic of the plan to build a third runway at Heathrow, having previously promised to "lie down in front of bulldozers" to stop the project.
National Infrastructure Commission chairman Sir John Armitt welcomed the news about the Leeds-Manchester link but said Johnson needed to stick with HS2: "The PM's decision [on HS3] must be integrated with plans for HS2."
Announcing its summer forecast, the Construction Products Association (CPA) said the new government's commitment to upcoming infrastructure schemes such as HS2 and the expansion of Heathrow Airport will be "vital" to the fortunes of the industry.
But the group said output would fall and flatline over this year, next year and 2021 without the delivery of major schemes, warning these have been put into "further doubt given the new PM's commitment to initiate a review of HS2".
It said that if major projects were canned then total construction output would fall by 1.7% in 2019 and experience no growth at all in 2020 or 2021.
Noble Francis, economics director at the CPA, said: "Construction output in some key sectors has already been badly affected by Brexit uncertainty over the past 18 months and when you add in rising concern about government delivery of major infrastructure, it is a highly uncertain time for the construction industry."
Even if the under-threat schemes do go ahead, the CPA is predicting a 0.3% decline in total construction output for 2019, in line with previous projections but its forecasts for 2020 and 2021 have been revised down to a growth of 1% and 1.4% respectively from a previous forecast of 1.4% and 1.7% in the spring.
The CPA said levels of construction activity had declined in London, the South-east and parts of the east of England but remained at a high level in the Midlands and the North-west.
Sub-sectors such as commercial offices, commercial retail and industrial factories saw a fall in activity, with the CPA attributing this largely to investor sentiment being impacted by the continued Brexit uncertainty.