Market starting to settle after two year contraction in spending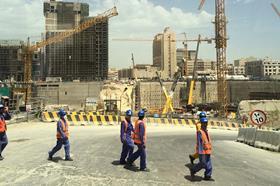 An uptick in construction activity in the Middle East and North Africa (MENA) is expected to fuel a rise in tender cost prices this year, according to Mace.
While the region's construction market is still reeling from a two year contraction in project spending, the firm's latest tender cost update showed a fuller pipeline for 2018 was providing optimism in the region as economic reforms and fiscal consolidation started to pay off.
As oil prices and consequently budgets recover from the slowdown across the region and activity picks up, there is a general recovery in tender prices.
This steady recovery is set to continue in Saudi Arabia, picking up to 2.79% growth in 2018 from 2.54%, reflecting the launch of many new projects to market and increased competition for suppliers.
Saudi Arabia is set to see strongest growth in tender prices of the countries considered, followed by Oman, which has seen a significant jump to 2.46% growth in 2018.
The forecast also showed Egypt was likely to see significant tender price inflation this year having jumped to the second largest MENA project market.
The report showed that finance remained a challenge and an increased reliance on private sector funding was likely to be a permanent change across the region.
Fergus Rossiter, director of Mace Cost Consultancy for MENA, said: "Increased project activity is anticipated to drive up tender prices across MENA markets, as contractors see their order books fill up again after the recent slowdown.
"However, the new economic reality means bringing financing to the table is becoming increasingly important, as contractors compete for diminishing government funding."
Material costs were also seen to be increasing as cash-strapped countries use the introduction of VAT to recover some of their income.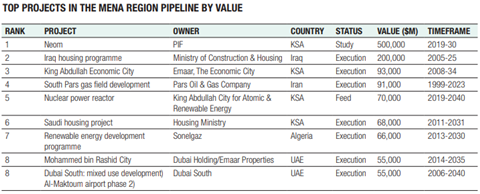 Source: Mace