Backed by nine trade bodies, poll seeks to identify difficult-to-fill roles in a post-Brexit sector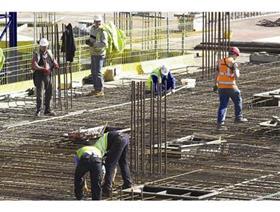 The construction industry is launching what it claims is the largest ever survey on skills shortages in order to paint an accurate picture of vacancy demand after the UK leaves the EU next year.
The survey, which is being sent out to 20,000 companies across the UK, will ask firms to highlight which roles they are finding it difficult to recruit now and, crucially, those which they expect to be most challenging post-Brexit.
Nine trade bodies are backing the survey, including the Federation of Master Builders, the National Federation of Builders, Build UK and its member trade groups and the Civil Engineering Contractors' Association.
As well as highlighting where vacancies are likely to arise, the survey's findings will help also be used to engage with the government and Migration Advisory Committee to support decision-making on appropriate migration for workers from the EU and rest of the world.
Non-members of the nine trade associations backing the poll are encouraged to fill in the survey, which can be found here.
Industry concerns over immigration have been heightened by prime minister Theresa May's commitment to forge an immigration policy which focuses on highly skilled individual over the sector's specific need to fill vacant roles, such as labouring.
Mark Reynolds, Mace's chief executive and skills lead for the Construction Leadership Council, said: "We know that our sector will need to recruit hundreds of thousands of new workers over the coming years. We want to ensure that this recruitment is supported with targeted actions by industry and government.
"This first step in achieving this is the development of a detailed picture of those occupations where we face the biggest challenge."
Brian Berry, the FMB's chief executive, said the government's current position on post-Brexit immigration would result in construction sites up and down the UK grinding to a halt due to a lack of workers.
"This consultation is the construction industry's opportunity to demonstrate the extent of the skills shortage in key occupations that are essential to delivering the government's own housing targets and planned infrastructure projects," he added.
The other bodies lending their weight to the survey are the Association for Consultancy & Engineering, the Chartered Institute of Building, the Construction Plant-hire Association, the Construction Products Association and member trade bodies, and the Highways Term Maintenance Association.
Firms have until 21 December to complete the survey.