Leading clients and housing minister say factory-built homes could transform the market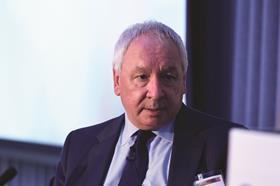 A big shift towards factory-built homes is set to transform the housing market, leading clients have said, as the minister in charge of the sector revealed institutional investors stand ready to fund the push into modular construction.
Top housebuilder Crest Nicholson and investment giant Legal & General (L&G) revealed the scale of their flat-pack housing ambitions at the Building Live conference in London this week.
Housing minister Gavin Barwell also told Building that attracting and using institutional investors' cash will be a key part of the government's white paper on delivering 1 million new homes by 2020, to be published next month.
In an interview with Building editor Sarah Richardson at the Building Live event this week, Crest Nicholson chief executive Stephen Stone (pictured) revealed the housebuilder plans to build up to 2,000 modular homes a year and will produce its first prototype modular home in February.
Stone said the move was in part a response to looming skills shortages: "We think we can get to 1,000-2,000 [modular] homes a year. In 10 years' time, most of the current workforce will retire. We're not getting enough apprentices in […] so we're going to prepare ourselves for it."
Elsewhere at the event, L&G's housing delivery boss Ian Eggers told Building the investor's publicised plan to build 3,000 modular homes a year was "just scratching the surface" and it could build further housing factories on top of its initial 13-acre facility in Yorkshire.
Eggers said the firm has installed 10 production lines and up to £60m of manufacturing equipment in the factory near Leeds, with the first prototypes set to roll off the line by early next year.
Commenting on future ambitions, he said: "We've got one factory, but we could have another factory and another factory. That's the scale of the problem."
He added: "L&G are massive and they've jumped both feet in to this. The question is 'Can I keep the factory busy?' I think you know the answer to that."
Commenting on the potential for factory-built homes, Barwell said: "Off-site can make an important contribution for a number of reasons.
"Pretty much everyone I speak to says the challenges are on the skills part. We need to raise our ambitions and get more people involved in the industry."
He added that he had spoken to other institutional investors interested in following L&G's lead.
"I've had discussions with institutional investors and there will be more on that in the white paper [on housing]," he said.
"L&G are a pioneer and others are interested [having] had discussions with other institutional investors."