Prime minister dashes hopes restrictions will be lifted soon in Downing Street speech this morning
Construction bosses have told government it needs to make it even clearer the industry is allowed to carry on working during the lockdown as the prime minister dampened hopes of lifting restrictions any time soon.
This morning, Boris Johnson said he would not be easing the lockdown, imposed five weeks ago, at the moment, warning any premature relaxation of the measures would lead to a second spike in deaths, an "economic disaster" and restrictions being reintroduced.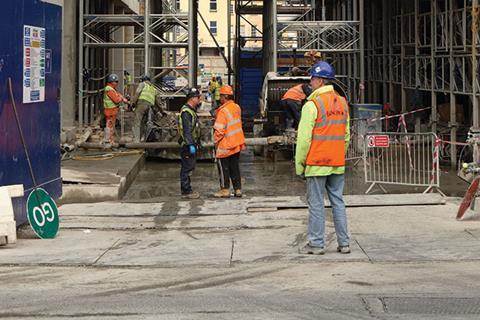 Despite this, the industry is looking at ways to increase productivity as the lockdown continues and already several housebuilders have said they are remobilising sites while main contractors including Mace and Sir Robert McAlpine have also reopened sites – although this will only be done on a limited basis.
Last week, housing secretary Robert Jenrick told Building he wanted to see more construction sites reopen, as long as they were following government health protocols.
Build UK chief executive Suzannah Nichol, along with Mace chief executive Mark Reynolds and Skanska boss Greg Craig, told business secretary Alok Sharma the industry was one of those government needed to spell out to the public that it had clear permission to carry on working.
In the days after the government introduced the lockdown, public hostility towards the industry grew over a perceived flouting of the rules while Balfour Beatty instructed staff to say they were essential workers if they were challenged over why they were travelling in to work.
The trade group said government making it clear construction was a vital part of the UK's recovery plan would be "reassuring [for] both workers and members of the public that certain industries were being asked to continue their operations alongside the government's 'stay at home' policy".
Other topics raised at last Friday's meeting also included laying on more public transport in London for workers to get to site.
There are growing concerns that as more and more contractors reopen sites in the capital, images of workers packed onto Tube trains will once again resurface.
Transport for London has shut dozens of tube stations for more than a month now and reduced the number of trains operating – leading to overcrowding fears and worries that returning site workers will not be able to follow social distancing rules properly.
Build UK also said it needed further guidance on the use of PPE in non-clinical working environments and clarity over the reference to 15 minutes' face to face contact. It also wants manufacturers, distributors and merchants to be able to return to work to support construction returning to work.
Points raised for construction
Sectors to have clear 'permission to work', reassuring both workers and members of the public that certain industries were being asked to continue their operations alongside the government's 'stay at home' policy
Clear sector guidance on complying with social distancing requirements and the importance of government endorsing sector-wide policies such as the Site Operating Procedures for construction
Further guidance on the use of PPE in non-clinical working environments
Further clarity over the reference to 15 minutes' face to face contact as set out in the government's guidance on social distancing in the Workplace for the construction sector
Supply chains including manufacturers, distributors and merchants to open up to provide the materials and other supplies required for industry to continue
Flexibility from local authorities on extending working hours to support output and productivity where social distancing requirements result in a reduced headcount
Sufficient availability of public transport for workers in London