Trade groups say access to overseas labour must be kept after Brexit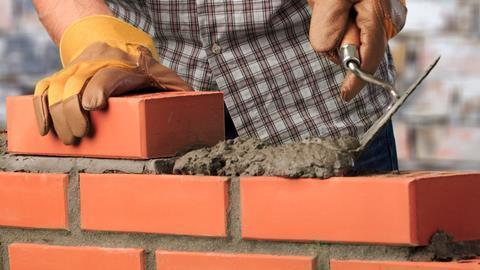 Construction trade associations have called on the government to work with the sector on addressing the industry's skills shortage and add a range of roles to ministers' review of post-Brexit migration plans if it cannot recruit for those jobs within the UK.
Nine trade bodies have identified 18 roles, including bricklayers, civil engineers, quantity surveyors and site supervisors, that are the hardest to recruit for.
The groups – the Association for Consultancy & Engineering, Build UK, the Civil Engineering Contractors Association, Construction Plant-hire Association, Construction Products Association, the Federation of Master Builders, Highways Term Maintenance Association, the National Federation of Builders and the Chartered Institute of Building – said united action between industry and government was needed to address the shortages.
The construction industry needs to recruit more than 31,000 people every year to 2022, while research by the UK Commission for Employment and Skills suggests more than 750,000 people will leave the sector between 2014 and 2024.
The associations acknowledged steps should be taken to recruit from within the UK, but they also urged the government to add those positions that were hardest to fill to its 'Shortage Occupation' list as part of its review of migration following Brexit.
An affected role going on the list would mean it would be prioritised in future migration from the rest of the world.
CECA chief executive Alasdair Reisner said: "Speaking to companies from across UK construction we have identified some key roles where recruitment is already very difficult, or where it will become so once migration from the EU is reduced post-Brexit.
"We believe that it is crucial that we work together, as an industry and with government to target these shortage occupations, boosting recruitment and training in the UK, while looking to sensible migration from the rest of the world to meet additional demand."
Patrick Cusworth, head of policy and public affairs at the Chartered Institute of Building, said the sector acknowledged it had to be "more ambitious" in terms of recruiting, training and developing more people.
"However, research has shown that in the short-to-medium term the industry needs to be able to continue to access migrant labour in a number of key professions such as construction and project management and a number of site-based roles," he added.
In-demand roles
Acoustic engineers
Bricklayers
Carpenters
Ceiling fixers
Chartered surveyors
Civil engineers
Construction and building trades supervisors
Construction project managers
Design engineers
Dry liners
General labourers
Groundworkers
Mechanical and electrical engineers
Planners
Plant and machine operatives
Production managers and directors
Quantity surveyors
Structural engineers