Last month's government immigration white paper – 'skills-based' with a £30,000 salary threshold and no route for the self-employed – is almost the complete opposite of what construction has been calling for, says Joey Gardiner. So what's the likely impact going to be and what can the industry do to adapt?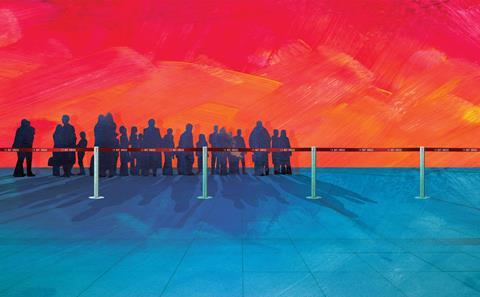 Construction bodies have used a variety of adjectives to describe the government's long-delayed immigration white paper, finally published in the dog days before the Christmas break. See if you can spot a common theme among them: "concerning", "unsettling", "wrong", "very disruptive", "nightmare" – oh, and not to forget "crackers". Yes, it's fair to say not everyone's completely happy.
What has made it particularly galling is the fact that the main industry bodies joined together over a year ago to create a Brexit manifesto saying what they needed a post-EU system to look like. Sarah McMonagle, external affairs director at the Federation of Master Builders (FMB), which was part of that effort, says: "The white paper has in almost all respects gone in completely the wrong direction."
"A year ago we predicted the industry would face shortages – fast forward to now, and our predictions are coming to pass"

James Bryce, Arcadis
The white paper's purpose is to describe the immigration system the UK will adopt from 2021 after the end of the UK's transition out of the EU. But instead of the system the industry asked for, the politically charged white paper proposes a "skills-based" system that treats EU and non-EU migrants equally but broadly bars "low-skilled" migrants while attempting to lure the most highly qualified. Given the centrality of immigration to the whole Brexit debate, and the fact prime minister Theresa May has prioritised immigration above all else in negotiating her Brexit deal, it is not hard to see why this approach has been arrived at. Prioritising those migrants with the most economically valuable skills seems, on the face of it, just common sense.
So, what is so bad about what the government has proposed? And why can't the industry simply train more people to make up the difference? The debate shines a light on the industry's reliance on foreign labour, and raises huge questions about how it will be affected, and whether it can respond and adapt.
Skills gulf
The white paper has been published at a critical time for UK construction, just two years after consultant Mark Farmer warned the industry to "modernise or die" because of the extent of the skills crunch it will face over the next decade. According to the CITB, the industry needs to recruit in excess of 31,000 people every year to 2022, while research by the UK Commission for Employment and Skills suggests more than 750,000 people will leave the sector between 2014 and 2024. The FMB's McMonagle says around two-thirds of the body's members are already finding it hard to recruit new staff. "It's the number one concern for us this year," she says.
In this context, the 165,000 EU-born workers in the industry perform a vital role, making up 7% of the workforce, according to the ONS. In London the reliance is much higher, with 28% of construction workers hailing from the EU. For many firms, the reliance is higher still. Mark Reynolds, chief executive of construction giant Mace, says an analysis of its 11,000-worker supply chain has shown half are foreign-born, 40% from the EU. "Some construction sites are 100% EU," says McMonagle.
"They're insulting tradespeople by telling them they're 'low-skilled'. We reject the idea that these people aren't needed. The government is departing from reality"

Sarah McMonagle, FMB
A report by consultant Arcadis in 2017 which considered a wider definition of construction roles, predicted that, depending on the type of Brexit deal and post-Brexit immigration policies we end up with, anything between 136,000 and 214,000 EU workers would disappear from the wider construction and property industry by 2020. The firm's director of workforce planning, James Bryce, described the prospect then as "not a skills gap. It is a skills gulf."
Reflecting these concerns, the industry's joint Brexit manifesto, which mirrored Building's own Brexit campaign, called for an immigration strategy without "arbitrary thresholds based on skill levels or income", which could provide visas of at least two years, minimise bureaucracy, and take into account the role of self-employed migrant workers.
Upside down
In contrast, the government's proposed immigration strategy (see "White paper in brief", above), rejects every one of these asks. In essence, it applies a reformed version of the existing immigration rules for non-EU workers to all migrants. The principles of it are that, aside from very wealthy investors and a small number of "exceptional talent" visas, for which most construction workers could not even be considered, most future immigrants would have to be sponsored by an employer, qualified to an "intermediate" level and earning a minimum amount. The government has proposed setting the bar at £30,000 a year, though it has indicated it is willing to discuss where this threshold is set. Self-employed workers or those defined as "low-skilled" would not normally be allowed in, other than on short-term, one-year visas.
Added together, the consequence for EU construction migrants is potentially severe. An analysis by the government's adviser on the policy, the Migration Advisory Committee (MAC), says that 80% of existing European (EEA) construction migrants would be caught by one or other of these policies. It's important to realise this doesn't mean four out of five existing EU workers will have to return home, as many have been here long enough to have accrued the right to settle permanently. However, it does indicate just how curtailed future migration flows could be, despite the growing need for skills identified by the CITB and others.
Suzannah Nichol, chief executive of industry trade body Build UK, says: "The government is saying that we can bring someone in to play football, but we can't bring someone in to build the stadium they're going to play in. It just seems a bit upside down."
And Arcadis' Bryce says: "A year ago we predicted the industry would face shortages – fast forward to now, and our predictions are coming to pass. I don't feel the white paper acknowledges businesses needs at all."
While the exact impact of these policies, if implemented, is impossible to predict, many are now forecasting dire consequences for the government's housing and infrastructure plans. The FMB's chief executive, Brian Berry, said the target to build 300,000 homes a year would be "impossible" under this system, and major infrastructure projects "nothing but a pipe dream".
Keith Brooks, partner at consultant Cast, agrees that the policies would be "potentially very disruptive" to UK construction. "How will HS2 be built under this new system and at what price?" he asks, with McMonagle claiming wages would rise, putting businesses operating at slim margins under considerable strain. However, Cast's Brooks also believes the government will not be persuaded by what it regards as special pleading from an industry that has failed to reform and train enough staff over a generation. Modern construction methods should, he says, be being used to improve productivity and reduce the need for new staff, while the industry makes the case for a sensible transition period in which to adapt. "The UK construction industry should not be lobbying for exemption or special treatment. Times are changing and we need to adapt," he says.
But others maintain it is unrealistic to assert the industry can in the long term do without migrant labour, however hard it works to reform. Build UK's Nichol says: "Training domestically has to be part of the agenda, and absolutely the industry has to do more. But the UK currently has effective full employment – these people are already in jobs; we'd just have to steal them from other sectors."
McMonagle echoes this. "There's room for improvement in productivity but it's not going to be a silver bullet. Ultimately there's only a finite number of people and it's just going to be a dogfight with other industries." Meanwhile RIBA chief executive Alan Vallance points out it takes seven years to train a qualified architect. "You can't just turn the tap off immediately. There's been no time to plan," he says.
So far, however, it appears none of these arguments are persuading the government to change its mind. This is despite the fact different industry bodies have displayed an unusual degree of co-ordination to get their points across. Currently seven trade bodies, including the FMB and Build UK along with others such as the Civil Engineering Contractors Association and Construction Products Association, are joining together to submit evidence on the issue, and are planning a parliamentary event with construction minister Richard Harrington and immigration minister Caroline Nokes in March to press their case. The Construction Leadership Council has also convened an emergency Brexit "summit" to work through the implications of leaving the EU.
But given the prime minister's backing for the white paper, the chances of getting a fundamental shift under the current leadership seem low (at the time of going to press). "We understand that Theresa May is specifically very keen on the ideas in the white paper," says McMonagle. "Others in government are more pragmatic. If we see the PM go it might make it easier to push back on the issue we're concerned about." Given the unprecedented twists and turns we have seen in the Brexit saga so far, this far from impossible scenario may be the best the industry can hope for.
Immigration White Paper in brief
Rather than ration numbers by nationality, as under the current system, the white paper proposes rationing by skill and wealth – the more money and skills a migrant has to offer, the more the chance of getting in.
It proposes doing this by applying a relaxed version of the existing "points-based" system for non-EU migrants, with the existing 20,000-person cap on visas for skilled workers removed. However, skilled construction workers would only qualify for this "uncapped" route if they earn £30,000 a year unless their job makes it onto a list, currently being compiled by the Migration Advisory Committee (MAC), of occupations where workers are in particularly short supply (the "Shortage Occupation List"). Meanwhile, "low-skilled" workers will only be able to get temporary one-year visas.
Construction trade bodies have just submitted joint evidence to the MAC as to what are the most in-demand occupations. However, Sarah McMonagle, external affairs director at the FMB, says: "Even if the government makes allowances for the top 10 most in-demand construction occupations, it'll be nowhere near enough."
Why is it so hard for the industry?
1. Definition of skilled worker
The first problem is that the policy's definition of the skill level under which it will be possible to obtain a visa, cuts out about two-thirds of tradespeople. The government sets the bar at a "level 3" skill under its regulated framework, which is equivalent to an A-level qualification. While some tradespeople are qualified to this level, most are not, and the MAC's own analysis finds that 66% of migrant workers are in roles that are level 2 and below – which the government is classing as "low-skilled". The FMB's McMonagle says: "By defining it like this they're insulting tradespeople by telling them they're 'low-skilled'. We reject the idea that these people aren't needed. The government is departing from reality."
While the government will allow those classed as "low-skilled" in on a one-year visa, these people will have to return home after this with no right to come back to the UK for another 12 months. They will acquire no rights to live permanently or settle, and will not be able to train while here to "bump up" to the skilled visa system. Mace's Reynolds describes this low-skilled route as "a nightmare", while Build UK's Nichols calls it "crackers" and a bar to investing in people.
2. £30,000 salary threshold
For those with professional or higher-level trade qualifications that meet the skilled criteria, the £30,000 salary floor will exclude many more. According to the ONS, about a third of full-time construction industry jobs pay less than £30,000, while according to the MAC, four out of the five occupations most commonly carried out by migrant workers in construction have a median salary below the threshold. RIBA chief executive Alan Vallance says this will be a particular problem for architecture practices, where one in five staff are from the EU, but who earn, on average, just £28,000. Calling for "drastic reform" of the proposals, Vallance says: "It's absolutely critical the government looks at the [salary]cap and lifts it. If this comes in it's going to have a quite serious impact on the profession."
3. No route for self-employed
The final straw for the industry is the strategy's failure to provide a route for self-employed migrant workers (other than for entrepreneurs with money to invest). Across all industries, government data suggests the majority of migrant workers – 55% – are self-employed, while the MAC suggests that around 40% of all EU self-employed workers in the UK work in construction sector jobs. Steve Turner from the Home Builders Federation says: "Housebuilding activity is predominantly undertaken by a skilled subcontract and self-employed labour force […] If we are to continue to increase housing supply and deliver the government's housing target, it is essential we have continued access to skilled labour from abroad." Likewise, Steve Radley, policy director at the CITB, says "consideration is needed" for self-employed migrants.