Information Commissioner's Office will not be writing to around 2,000 workers whose names were on infamous blacklist after failing to obtain up-to-date details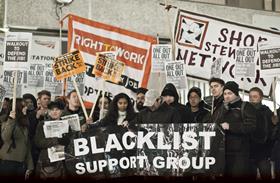 The information watchdog has given up on efforts to notify around 2,000 construction workers that their names were on an infamous industry blacklist after failing to establish up-to-date contract details for the individuals.
This week the Information Commissioner's Office (ICO) said it had identified up-to-date details for 1,257 of the 3,213 individuals on the construction industry blacklist, which it seized from blacklisting organisation the Consulting Association (TCA) in 2009.
It said it had now written to all of those 1,257 people informing them about the existence of the blacklist, and that 776 had now been sent a copy of the information held about them by TCA.
Unions and campaigners have urged the information watchdog to contact as many people as possible on the blacklist as they prepare High Court claims against the contractors that used the services of TCA.
But the ICO said this week that it would not be writing to any more individuals on the blacklist, as it had been unable to find up-to-date details for the remaining 1,956 people.
The ICO has been using credit agency Equifax as well as Department for Work and Pensions data to obtain current details for individuals on the blacklist, but in many cases this has been hampered by the partial or incomplete nature of the information held by TCA.
An ICO spokesperson said: "We don't plan to write out to any more people, as we believe we've written to everyone who we can be sure of having up-to-date details for."
The news comes after Building revealed last week that the firms behind a new scheme aimed at compensating victims of blacklisting had obtained, through a court order, a copy of the blacklist database seized from TCA.