Mark Group announces plans to cut up to 670 jobs and manufacturer Superglass puts business up for sale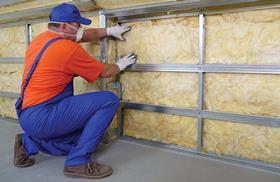 Insulation industry leaders have warned policy changes will result in more redundancies after installer Mark Group announced plans to cut up to 670 jobs and manufacturer Superglass put its business up for sale.
Last week, Building revealed that Mark Group planned to make nearly more than a quarter of its 2,500 UK workforce redundant because of declining demand for insulation installations following cuts to the government's Energy Companies Obligation (ECO) subsidy scheme.
Bill Rumble, chief commercial officer at Mark Group, said: "We had geared our workforce up to meet the expected demand for insulation and other energy efficiency installation work as a result of the ECO scheme, but changes to its structure have had knock-on effects that we can no longer avoid."
In a separate development this week, insulation manufacturer Superglass announced it was talking to potential buyers for its "principal trading subsidiary" as the demand from government energy efficiency schemes "remained negligible".
Official statistics released last month showed work under the ECO scheme had sunk to its lowest level in over a year. This followed cuts of around £1bn to the programme - first unveiled by the government last autumn - designed to knock £50 off annual household energy bills after the energy firms blamed green levies for price rises.
This week Labour's shadow energy minister Jonathan Reynolds said Mark Group's job cuts were "devastating news" and the government "owed the people who are set to lose their jobs an explanation as to why their policies have had such a terrible effect".
He said: "The government must urgently explain how it is going to stop more workers losing their jobs and more households missing out on vital improvements to make their homes warmer and cheaper to heat."
Richard Twinn, policy officer at the UK Green Building Council, said it was "likely" there would be further job losses, as the government cuts and its "piecemeal approach to energy efficiency policy begins to make its mark".
Steven Heath, external affairs director at Knauf Insulation, said: "Given the current policy scenario I don't see how the current level of installer capacity can continue."
Joanne Wade, director of the Association for the Conservation of Energy, said firms had "ramped up" to deliver the ECO only to find the market was smaller than anticipated.
She said: "We cannot keep operating under this level of policy uncertainty."
Building materials consultant Allan During said job losses were part of the "fall out" from the government's decision to "nuke" the ECO scheme.
He added: "The insulation industry's capacity is being seriously degraded at an alarming rate at both the manufacturing and the installer and contractor level."