Opposition party slams government policies as insulation installer makes up to 670 staff redundant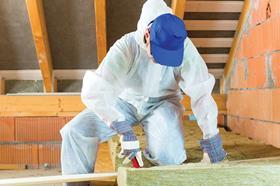 Labour has demanded the government give Mark Group staff an "explanation" after the firm announced it would be cutting nearly a quarter of its UK staff in response to failing government energy efficiency schemes.
Yesterday, the insulation installation firm announced that it had started consultation with its staff as it planned to cut up to 670 jobs.
The firm said that the cuts were necessary because of policy changes that had slashed the demand for insulation work under the government's Energy Companies Obligation scheme.
Official statistics released last month showed the work under the ECO scheme had sunk to its lowest level in over a year.
Under the government's planned changes to ECO, the energy firms are set to rack up extra credit for work done under the scheme before the end of March 2014 – but the number of measures installed each month has fallen ever since that deadline passed.
Those changes were first drawn up last autumn as the government sought to knock £50 off annual household energy bills after the energy firms blamed green levies for price rises.
Shadow energy minister Jonathan Reynolds said Mark Group's job cuts were "devastating news" and the government "owed the people who are set to lose their jobs an explanation as to why their policies have had such a terrible affect".
He said: "The government must urgently explain how it is going to stop more workers losing their jobs and more households missing out on vital improvements to make their homes warmer and cheaper to heat."
Reynolds added: "This Conservative-led government's short-term, short-sighted polices have undermined the energy efficiency industry.
"In particular, the decision to allow the energy companies to cut energy efficiency spending has hit the industry particularly hard. It is particularly frustrating that we are losing these jobs at a time when energy bills are at an all-time high and the need for energy efficiency improvements in UK homes is bigger than ever."
Announcing the cuts yesterday Bill Rumble, chief commercial officer at Mark Group, said it was a "very sad day for our business".
He said: "We had geared our workforce up to meet the expected demand for insulation and other energy efficiency installation work as a result of the ECO scheme, but changes to its structure have had knock on effects that we can no longer avoid."
He said the firm would operate with "a smaller workforce" until "there is a clear and consistent approach to energy efficiency policy."
A spokesperson for the Department of Energy and Climate Change said: "As a result of insulation measures delivered under ECO and the domestic Green Deal around 35,000 jobs will be supported in the insulation industry in 2015/16."