EGM scheduled for next month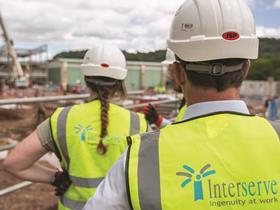 Interserve has said the EGM requested by rebel shareholder Coltrane Asset Management will take place on 26 March.
Coltrane has put forward an alternative rescue plan to the one proposed by the contractor earlier this month.
Coltrane's proposal would hand only 65% of the company to creditors in exchange for £436m of debt, leaving shareholders with an improved 10% of the equity, plus the opportunity to participate in a 25% rights issue worth £75m, which Coltrane would underwrite.
Last week, Coltrane, which wants all of the Interserve board removed apart from chief executive Debbie White, upped its stake in the business to more than 27%.
Under the terms of the restructuring deal published by Interserve three weeks ago, six lenders including hedge funds and the HSBC, RBS and BNP Paribas banks will be expected to swap £480m of debt in exchange for 97.5% of the company's stock – all but wiping out shareholders' stakes in the business.
Lenders have moved to counter Coltrane's alternative, proposing to double the stake of shareholders to 5%.
It has also been reported that the firm's lenders, in an attempt to keep the pressure up on shareholders tempted to back the rival Coltrane plan, have lined up EY to manage its administration if they cannot reach agreement with shareholders.
Under this plan, the firm would go into a pre-pack administration with a new owner lined up to take control of the business – and wipe out shareholders entirely.
Interserve is due to unveil details of its updated rescue plan later this week.