But directors face being pushed out as details of package emerge
Interserve shareholders will be almost wiped out under the latest plans to rescue the firm.
This morning, the contractor unveiled details of its latest rescue package more than a month after crashing into emergency talks after struggling to cope with its £650m net debt load.
Now a comprehensive plan to deleverage the firm's balance sheet will be finalised in coming weeks, before being put before Interserve's existing shareholders for approval.
In an update on the plans, the firm said it expects to reduce its net debt to around £275m by issuing around £480m of new Interserve equity to its creditors.
The new equity will amount to a 97.5% stake in Interserve, leaving the contractor's current investors in possession of just 2.5% of the business.
But existing shareholders will be offered new equity on a pro-rata basis according to their existing stake.
Shareholder wants eight directors to go
Coltrane Master Fund, a shareholder possessing more than 5% of the company's stock, has written to the firm requisitioning a general meeting and requesting chairman Glyn Barker, chief financial officer Mark Whiteling, senior independent director Russell King and managing director of Interserve's developments division Dougie Sutherland, as well as non-executive directors Anne Fahy, Nick Salmon, Gareth Edwards and Nicholas Pollard all be removed from the firm. Coltrane continues to support Debbie White, chief executive of Interserve, and the requisition notice does not seek her removal. Interserve said it was consulting with its advisers and will update its shareholders with regard to the timing of the general meeting.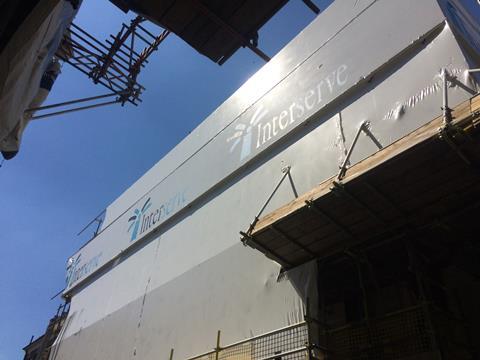 RMD Kwikform, its profitable subsidiary which trades in ground shoring, will remain part of Interserve, despite the contractor having previously suggested it was ready to hand it over to the banks.
The news follows reports that the Cabinet Office was actively involved in rescue talks, and blocked the transfer of RMD as it would leave the remaining Interserve business worthless.
Instead £350m of existing Interserve debt will be allocated to RMD with £169m swapped for cash and another £181m converted into a debt instrument.
Under the terms outlined this morning, lenders will also provide Interserve with another £75m in cash, through a debt facility with a 2022 maturity date.
And bond providers have agreed to supply further facilities as required by Interserve.
Debbie White, Interserve's chief executive, said the plan is a "signficiant step forward" in achieving a stronger balance sheet.
She added: "This proposal has been achieved following a long period of intensive negotiation and has the support of our financial stakeholders and Government.
"The board believes that this agreement will secure a strong future for Interserve."
Interserve has said it is also preparing a back-up plan to save the business, should the first-choice agreement with lenders not be approved by shareholders.
The full details of a rescue plan will be unveiled in a few weeks, while the firm is also set to publish its full year results for the year-ended 31 December sometime in March.